Dietitian's Dish – April 1, 2019
WOW – You can stuff it!
Fruits and vegetables are versatile foods which can be used in a variety of creative ways. Using them in non-traditional ways helps boost the nutrients in your meals and cuts the fat and calories (in many cases).
Explore your creative side by stuffing them…
Wrap filling in whole lettuce leaves instead of tortillas
Remove the stem and seeds, add the fillings and cook
Remove the pit, then top with cold filling OR fill and bake
Scoop out the seeds and fill with cottage cheese, yogurt and/or fruit
Ingredients:
1/2
lb. lean ground turkey or beef
1
Tbsp. chili powder
1/4
tsp. salt
3/4
tsp. ground cumin
1/2
tsp. dried oregano
1/4
tsp. garlic powder
1/4
tsp. onion powder
4
oz. tomato sauce
1
can black beans, drained and rinsed
3
avocados, halved
1
cup shredded cheddar cheese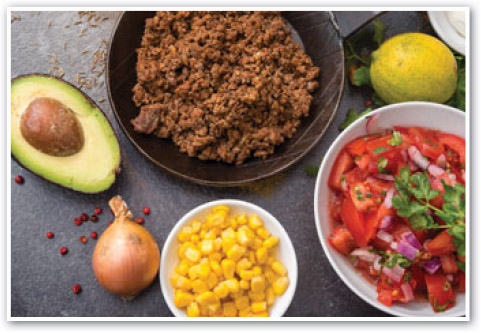 • Optional toppings:
diced tomatoes, shredded lettuce, fresh salsa, sour cream or Greek yogurt, sliced scallions, etc.
Directions:
1.

Add the ground meat to a medium-size sauce pan. Cook over medium heat until browned. Drain the fat, and then add seasonings plus the tomato sauce. Add the drained black beans. Stir to combine. Cook for 3-4 minutes.

2.Remove the pit from the halved avocados. To make a larger area for the taco filling, spoon out some additional avocado and set aside. Fill the craters with taco meat and top with cheese and other optional toppings.

Recipe variations…Swap the avocado halves for:
Tomato halves (which have had the seeds scooped out)
Pepper halves (stem and seeds removed then cooked to soften)
Portabella or stuffing mushrooms (stems removed and cooked to soften)
Lettuce leaves (cleaned whole leaves)