Dietitian's Dish – April 29, 2019
Taco Tuesdays – Rebooted!
Tacos offer a simple but versatile option for a quick weeknight menu. Reboot, with better-for-you ingredients that offer a good balance of protein, fats, and carbohydrates; along with ample amounts of fiber, vitamins, and minerals.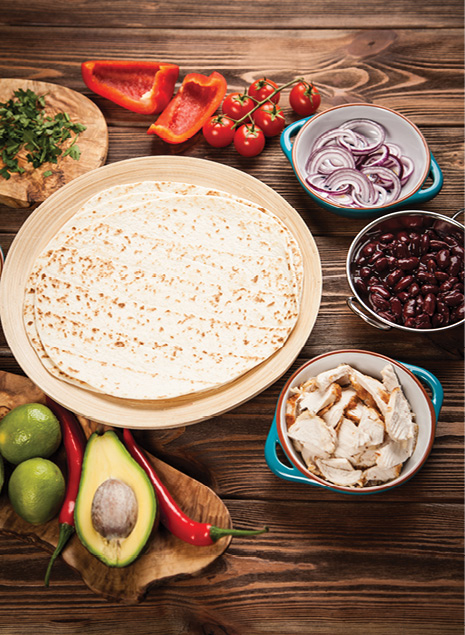 Start with the Shell:
Choose a 6-inch, soft shell, whole grain tortilla
Make a shell from cauliflower
Focus on the fillings:
Include protein (lean meat and poultry, seafood, beans, tofu)
Pile on the veggies
Include fresh herbs and greens
Choose whole grains
Top it off:
Drizzle calcium-rich plain Greek yogurt (instead of sour cream)
Add guacamole or diced avocado
Garden-fresh salsa easily adds more veggies
Shrimp and Zucchini Tacos
Ingredients:
2 Tbsps. canola oil, divided
1 large zucchini, cut into half-moons
1 onion, chopped
1 bell pepper, cored, seeded and chopped
4 garlic cloves, chopped
Kosher salt & ground pepper (to taste)
1 lb. shrimp, peeled & deveined, cut into 1/2-inch pieces
1/2 tsp. chili powder
Corn or flour tortillas (6-inch)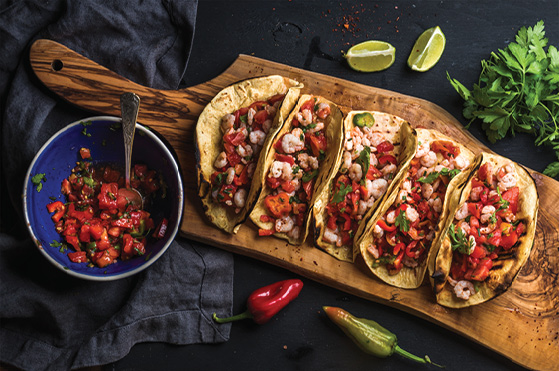 Directions:
1.Heat 1 Tbsp. oil in a large skillet over medium-high heat. Add vegetables and garlic. Cook until softened (6-8 mins.), stirring often. Season with salt and pepper to taste; set aside.

2.Wipe out the skillet; Heat 1 Tbsp. oil over medium-high heat. Add shrimp and chili powder; then season with salt and pepper. Stir often, cooking for about 4 minutes until shrimp pieces are cooked through.

3.Serve with warm tortillas and optional toppings (garden-fresh salsa, diced avocado, guacamole, cilantro, sour cream, etc.).