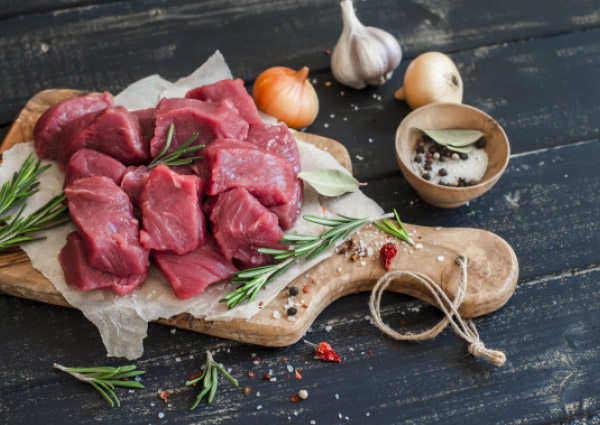 Dietitian's Dish – December 10, 2018
Lean beef cuts have lower calories than some plant-sources.Protein (25g) – Not always equal
Quinoa – 3 cups (666 calories)
Peanut butter – 6 Tbsps. (564 calories)
Black beans – 1-3/4 cups (382 calories)
Edamame – 1-1/2 cups (284 calories)
Lean beef – 3 oz. (154 calories)
Beef is also a good/excellent source of 10 essential nutrients (i.e. body cannot make them).
Protein – builds muscle
Niacin – supports metabolism
Vitamins B6 & B12 – protects brain function
Iron – helps use oxygen
Zinc – builds immunity
Choline – nervous system protection
Phosphorus – bone and teeth strength
Selenium – antioxidant protection
Riboflavin – converts food to energy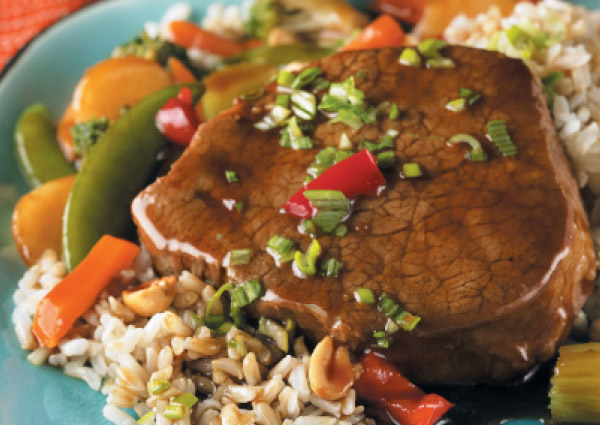 Kung Pao Beef
4
beef Eye of Round Steaks, cut 3/4 -1-inch thick (about 4 ozs. each)
1/2
cup Kung Pao stir-fry sauce
1/2
cup water
1/4
teaspoon crushed red pepper
3
cups chopped vegetables (broccoli, peppers, carrots, mushrooms, etc.)
1/2
cup unsalted roasted peanuts
1.Combine Kung Pao sauce, water and red pepper in small bowl. Place beef steaks and sauce mixture in large nonstick skillet; bring to a boil. Reduce heat; cover tightly and simmer 45-60 minutes or until beef is fork-tender.

2.Remove beef; keep warm. Add vegetables to skillet; bring to a boil. Reduce heat to medium; cook, covered, 7-9 minutes or until just tender, stirring once. Stir in peanuts.

3.Serve steaks with vegetable mixture over rice, if desired.