Dietitian's Dish – December 17, 2018
During the holiday rush, we often fail to fuel our bodies with healthy choices. Oats offer an easy fix for this "disconnect dilemma" – especially Quaker® Overnight Oats.
What's So Extraordinary about Oats?
Soluble fiber helps lower LDL cholesterol, which may reduce the risk of heart disease
Fiber contributes to a healthy digestive system.
Complex carbs are slowly-digested and offer steady energy.
Don't wait for New Year's resolutions to jump-start your mornings with better-for-you choices. Quaker® Overnight Oats offer a convenient way to fuel your body through the rest of your holiday festivities!

SIMPLE STEPS…
Grab a cup of your favorite flavor.
Add milk or a dairy alternative.
Cover & refrigerate while you sleep.
Wake up and enjoy!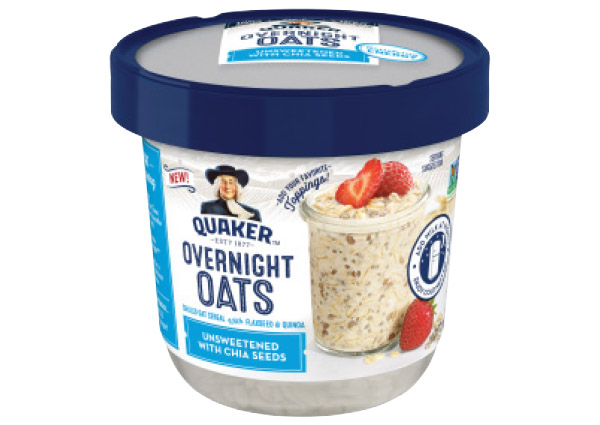 Made with 100% whole grain oats, quinoa, and flaxseed
Includes simple ingredients like real fruit pieces and nuts
No added artificial flavors or colors
Good source of protein (when prepared with 1/2 cup skim milk)
Good source of dietary fiber
Top the flavor with some extra mix-ins:



Rich, creaminess




Crunchy, protein boost




Vitamins & antioxidants