Dietitians Dish – June 10, 2019
Fresh Ways to Celebrate Dad!
Father's Day honors dad and all the father-figures in our lives. It's the one time a year intended to thank them for their sacrifices and show appreciation for their support. So, spend the day enjoying some quality time together. Serve him a fresh menu fit for a king! Whether dad wants to man the grill or is willing to let you show off your grilling skills, Surf and Turf Kabobs are a delicious option.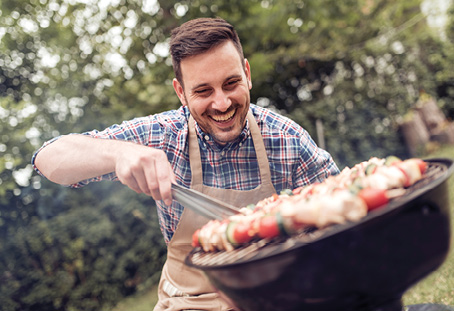 Southwestern Surf & Turf Kabobs
Ingredients:
1 lb. steak, cut in 1-inch cubes
1 lb. large shrimp, peeled and deveined
1/2 cup Italian dressing
1/4 cup fresh lime juice
1 Tbsp. honey
1-1/2 tsps. ground cumin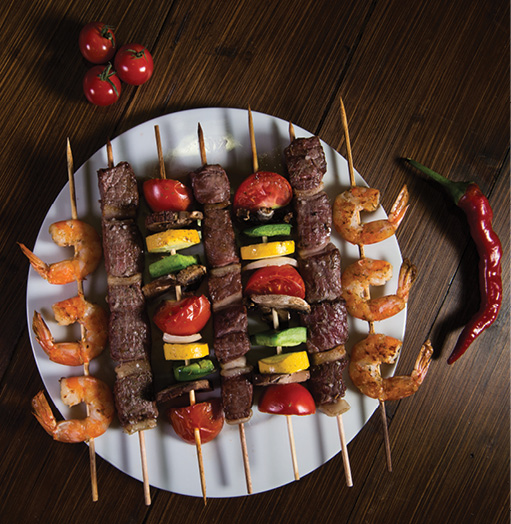 Directions:
If using bamboo skewers, soak them in water for 30 minutes before assembling. Thread skewers with steak cubes and shrimp. Place assembled kabobs in a plastic bag and set aside.
Whisk dressing, lime juice, honey and cumin in a bowl. Pour over the skewers, close the bag and turn to coat evenly. Refrigerate for at least 30 minutes.
Preheat grill to medium heat (~350˚F). Remove skewers from marinade and discard any excess. Close grill lid and cook ~ 4 minutes per side, until shrimp is pink and steak cubes are cooked to internal temp of 145˚F.
Grill up some sides too…
Peel husks back, remove silks, then re-wrap
Soak in water for 10 mins., then shake off water
Grill for 10-20 mins. (to desired tenderness)

Cut into wedges and brush with honey
Grill 2 mins. per side until browned

Cut top off a whole pineapple and then cut into 4 quarters (lengthwise)
Cut the center core off the wedges and brush with honey
Grill 3 – 4 mins. per side until browned