Dietitian's Dish – March 18, 2019
Score More Points – With Less!
Whether you're following the "madness" of college hoops or need some simple snack ideas, shoot for recipes with fewer ingredients to save you time and money. Frozen ingredients can be used creatively to make delicious finger foods. I guarantee you'll score big with these easy, dunk-able snacks.
Caprese Tortellini Skewers
Ingredients:
1
bag
Seviroli
frozen cheese tortellini
2
containers
Nature Sweet Cherubs
tomatoes
Fresh mozzarella balls or cut mozzarella
30-40
Fresh basil leaves
30-40
Wooden skewers (6-inch)
Optional sauces: Balsamic glaze and prepared pesto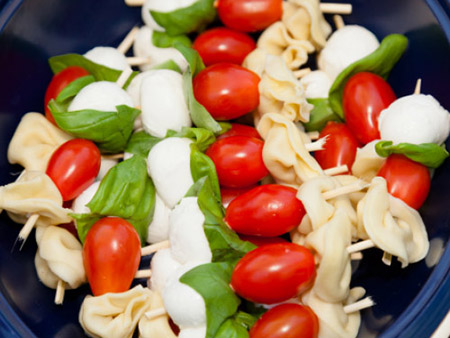 Directions:
1.Prepare cheese tortellini according to package directions. Drain and rinse under cold water and set aside.

2.Thread each skewer with 1 tortellini, 1 piece of fresh mozzarella, 1 tomato and 1 basil leaf.

3.Refrigerate until ready to serve. Optional: Serve skewers with small containers of balsamic glaze and prepared pesto for use as dipping sauce or drizzle.

Tropical Fruit and Waffle Kabobs
Ingredients:
10
frozen waffles, cut in quarters (or 40 mini waffles)
20
strawberries, cut in half
2
mangos, diced into 40 pieces
1
pineapple, diced into 40 pieces
20
Wooden skewers (6-inch)
Optional sauces: Chocolate or fruit sauce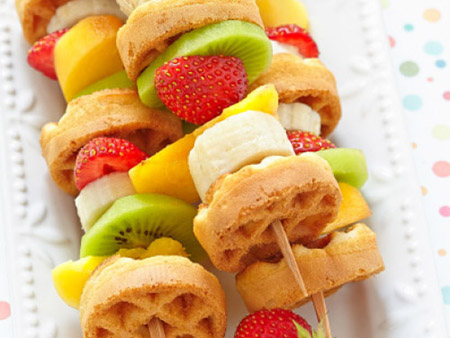 Directions:
1.Thread each skewer with 1 waffle piece, 1 strawberry half, 1 piece of mango, 1 piece of pineapple and then repeat with a 2nd piece of each.

2.Optional: Serve skewers with small dishes of chocolate sauce and fruit sauce for dipping or to drizzle.

If you want to keep it even simpler, heat a package of
Birds Eye Steamfresh Protein Blends Southwest Style per the instructions.
Pour into a serving dish and stir to evenly distribute any sauces.
Serve with whole grain crackers, tortilla chips, or pita crisps
as an alternative to a hearty salsa or "Cowboy Caviar".