Dietitian's Dish – May 20, 2019
Hooray for the Red,White & Blue !
Memorial Day, originally known as Decoration Day, is a remembrance of fallen American service members. Respect is shown by decorating with red, white and blue. Plan a patriotic menu to show your support!
The RED & BLUE colors contribute antioxidants which protect against cancer, memory loss, heart disease and stroke.
Patriotic Salad
Ingredients:
5
ounces salad greens
3
cups cooked, cooled quinoa
1-1/2
cups blueberries or blackberries
1-1/2
cups raspberries or strawberries
Feta cheese, sliced almonds and watermelon stars (optional toppings)
Raspberry vinaigrette dressing (or a favorite flavor)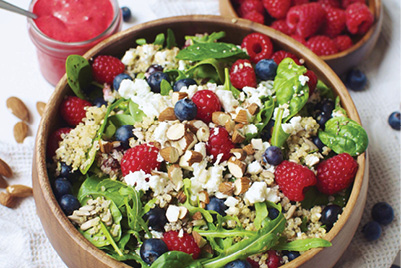 1.In a large salad bowl, arrange the greens. Top with quinoa, berries, and optional toppings. Toss lightly to mix for serving.

2.Make this salad up to 5 hours in advance, cover with plastic wrap, and refrigerate.

3.Serve dressing on the side.

Berry Creamy Popsicles
Ingredients:
1
cup fat-free milk
1
cup nonfat vanilla Greek yogurt
1/2
cup fresh raspberries
1/2
cup fresh blueberries
1/2
cup fresh strawberries, chopped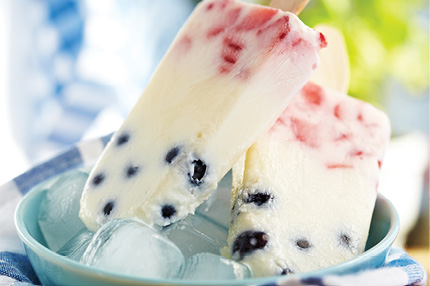 1.In a medium size bowl, whisk together milk and yogurt, then set it aside.

2.In each popsicle mold, alternate yogurt between the blue and red berry layers.

3.Insert sticks and freeze for a minimum of 6 hours.

3.Run molds under warm water to release the popsicles.