Dietitian's Dish – May 27, 2019
Tis' the season for FRESH!

As you fire up the grill more often, lighten up your menu with a fresh chopped salad. Traditional side dishes include creamy macaroni or potato salads, and carb-filled pasta salads with very few veggies.
For your next BBQ, break tradition and lighten up the menu by including a chopped salad (WITH a hint of pasta!). Using sunflower seeds or nuts in place of croutons and crunchy (fried) toppings will add mood-boosting healthy fats and essential nutrients to help the heart and blood sugar. If you're feeling more adventurous, try grilling your Romaine lettuce! Grilling helps limit loss of nutrients, locks in flavor, and enhances natural sweetness of fruits and veggies.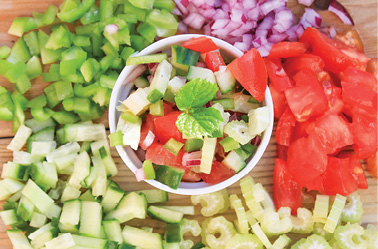 Chopped Salad
1/2
lb. cooked Ditalini pasta, chilled
2
heads Romaine lettuce, finely chopped
1
head Boston bibb lettuce, finely chopped
3
carrots, diced small
1
cup diced tomatoes
1/2
cup onion, diced small
1/2
cup red bell pepper, diced small
1
cup celery, diced small
1/2
cup shredded Parmesan cheese
1/2
cup unsalted sunflower seeds (no shell)
Oil & vinegar-based dressings
Combine the lettuces, diced vegetables, and pasta in a large serving bowl; toss together. Top with Parmesan and sunflower seeds.
Serve with dressings on the side.
Grilled Romaine Salad
2
heads of Romaine lettuce, cut vertically (into 4 halves)
3
tablespoons olive oil
kosher salt, divided
black pepper
1
lemon, cut in half
1/4
cup Parmesan cheese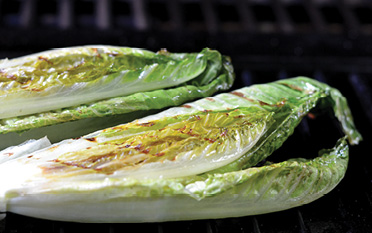 Start with clean grill grates and heat to medium-high.
Brush both sides of lettuce halves with 1 ½ tablespoons of the olive oil. Sprinkle lightly with salt.
Grill for 3 minutes, cut side down, pressing with tongs to get a good sear. Flip and grill up to 2 more minutes.
Remove from the grill and sprinkle with salt and pepper, drizzle remaining olive oil, and squeeze fresh lemon juice over each half. Top with a tablespoon of Parmesan on each half.