Dietitians Dish – July 22, 2019
Sensational Summer Suppers
On a hot summer day, who wants to heat up their kitchen making dinner? It is possible to enjoy fresh summer options with little or no cooking. Turkey cutlets are a versatile option that will help you get in and out of the kitchen quickly. Because of their thinness, they cook as fast (or faster) than ground meat. Turkey cutlets have less fat but the same versatility as ground meat, so you can't go wrong!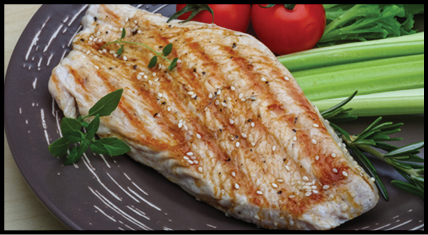 Grill
– Preheat grill to medium- high. Cook cutlets on a greased grill grate for 2-3 minutes on each side. Always cook until well done.*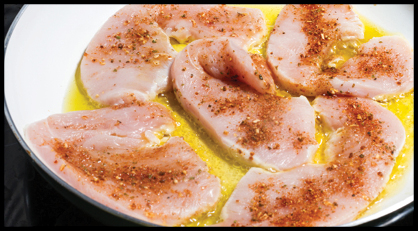 Pan Fry
– Toss with olive oil and seasonings. Heat a large skillet over medium-high heat. Add cutlets and cook for 4-6 minutes, turning frequently.*
Simple Meal Ideas
Serve cutlets whole with your favorite sides.
Slice cooked turkey cutlets into strips or cubes; swap them into meals in place of ground meats
Add them to a bag of salad greens.
Top a pasta dish.
Include in a stir-fry.
Serve them in a soft or hard shell with your favorite taco toppings.
Create a lettuce wrap with "Mediterranean" toppings.
Pecan Crusted Turkey Cutlets
Ingredients:
3/4 cup chopped pecans
1/2 cup grated Romano cheese
1/2 teaspoon seasoned salt
1/2 teaspoon Italian Seasoning
1 package turkey breast cutlets
1 tablespoon olive or canola oil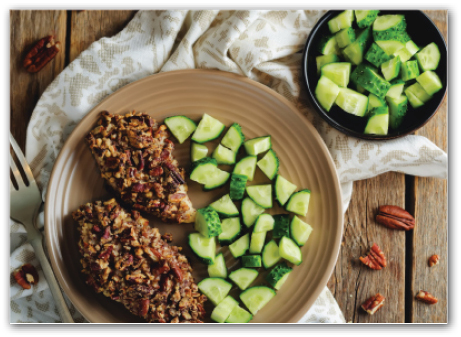 Directions:
Place pecans in a food processor; cover and process until ground.
Combine the pecans, cheese, seasoned salt and Italian seasoning in a shallow bowl. Press the turkey cutlets into a pecan mixture to coat.
Heat oil in a large skillet over medium heat; add the cutlets and cook for 3 – 4 minutes on each side.*
*NOTE: Cutlets should cook to an internal temperature of 165º F.