Dietitians Dish – August 31, 2020
Labor Day eats…without a lot of labor!

The freshness of this salad makes it a great menu item for any occasion. With the majority of the time spend boiling a pot of water, it'll be ready in less than 30 minutes. What's not to like about that? So, put it on your menu while the fresh ingredients are available. You won't be disappointed!
Fresh Corn, Cherry Tomatoes & Avocado Salad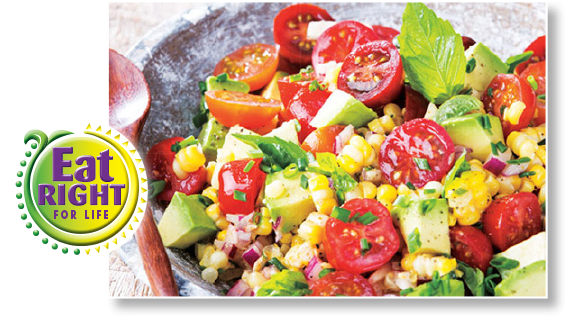 Ingredients:
6 medium ears of corn, silks and husks removed
1/4 cup extra virgin olive oil
2 Tbsps. fresh lemon juice
1 tsp. Dijon mustard
1/4 tsp. ground red pepper
1/4 tsp. salt
1/4 tsp. freshly ground black pepper
2 cups halved cherry tomatoes
1/2 cup finely chopped red onion
2 Tbsps. chopped fresh chives
1 large avocado, cut into 1/2-inch pieces
1/3 cup small whole basil leaves
Directions:
Heat large covered saucepot of salted water to boiling over high heat. Add corn and cook 3 minutes or until corn is crisp-tender. Rinse corn with cold water; drain and cut kernels from cobs.
In large bowl, whisk together oil, lemon juice, mustard, red pepper, salt and black pepper; stir in tomatoes, onion, chives and corn. Fold in avocado and basil. Makes about 6 cups.