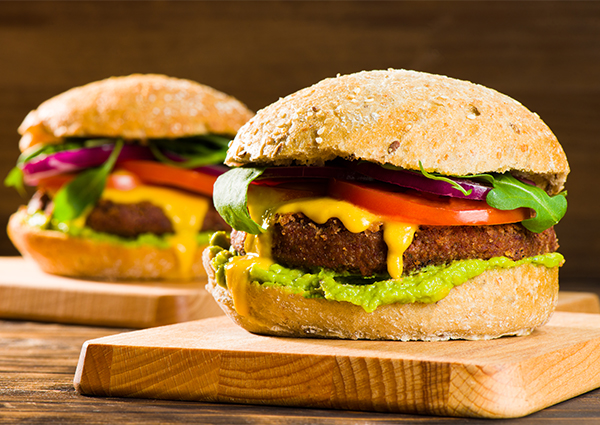 6 Veggie Burger Recipes that Kids Will Want to Eat

We all want our kids to develop healthy eating habits, and plant-based diets aren't merely popular; they're good for you… and the planet. So serve these veggie burgers, and then watch the kids devour them!
1. Chickpea: The granddaddy of plant-based burgers has to be the chickpea patty. This legume boasts protein and fiber and is transformed with whatever flavor you give it. Try a mixture of drained, canned chickpeas with plain nonfat yogurt, olive oil, curry powder, paprika, salt and pepper. Melt some Cheddar on top, and you have the classic veggie burger.
2. Black Bean: This quick-fix burger boasts nutritious black beans with a smoky, BBQ flavor. Just combine drained and rinsed canned black beans, minced sautéed onion and garlic (or onion and garlic powder), cumin, salt, pepper, breadcrumbs, prepared brown rice and an egg, with some sweet and/or spicy barbeque sauce. Mix in the food processor.
3. Quinoa-Pumpkin: While this may sound unusual, trust us, it's delicious and kids gobble it up! Take cooked quinoa, canned pumpkin and bulk it up with oats, cannellini beans, onion and garlic powder, cumin, thyme and a bit of cinnamon. Add a smidge of cayenne pepper for spicy-food loving kids.
4. Brown Rice and Walnut: The rice gives it its heft and the walnuts a meaty flavor and good texture, while panko and black beans (or any beans you have in the pantry) rounds it out; if desired, add a bit of barbeque sauce.
5. Beet: Kids may be more open-minded if you call it a "pink burger" instead, but drained canned beets, garlic and onion powder, sunflower seeds and beans of choice are mixed with apple cider vinegar, oats and an egg (or flaxseed for a vegan option) in this tasty burger. Spice with paprika, cumin, salt and pepper to taste. Beets are a super food, so these are super burgers!
6. Mashed Potato and Black Bean: Combine with paprika, onion, garlic, panko, salt and pepper plus cumin. Add red bell pepper for texture to please more adventurous eaters.
You can add an egg or flaxseed as binders. Fry the burgers in olive oil, bake with a bit of nonstick cooking spray, cook and crisp in the air fryer, or take them to the grill for a legit smoky flavor. Play around with ingredient amounts until you get the best texture that holds together well without being overly dry.
Treat like any burger and heap with preferred condiments and toppings, in a yummy (whole-grain!) bun. Veggie burgers go great with sweet potato fries, air fryer potato wedges and creamy coleslaw, baked beans or homemade chips.