Dietitians Dish – May 16, 2022

Simply Sweet Addition to Grilled Entrees!
As you grill up your favorite meat, poultry, seafood, or plant-based proteins, don't forget to add a few veggies for an easy side dish. But how can you include fruit in a fun, flavorful way? Fresh salsas are a simple solution! There are a wide variety of recipes using seasonal fruits in salsa. Grab what's on sale this week and experiment with flavors. If you're looking for some extra sweetness, grill the fruit first!
Grilled Chicken with Watermelon Salsa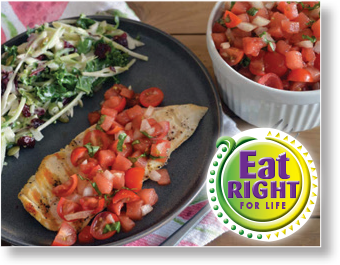 2 cups diced watermelon
1 cup cherry tomatoes quartered
1/4 of a small, sweet onion chopped
2 Tbsps. chopped basil
1 Tbsp. + 1 tsp. olive oil, divided
1 tsp. balsamic vinegar
1/8 tsp. salt
4 boneless skinless chicken cutlets
Directions:
Mix watermelon, tomatoes, onion, basil, 1 tsp. oil, balsamic vinegar and salt in large bowl. Cover and refrigerate.
Preheat grill to medium heat. Brush chicken with 1 Tbsp. oil and season with salt and pepper (to taste). Place on grill and cook 3 minutes per side, or until internal temperatures reach 165°F. Remove from the grill to plates and top with watermelon salsa.

Recipe (adapted) and image courtesy of HealthyFamilyProject.com.
Strawberry Mango Salsa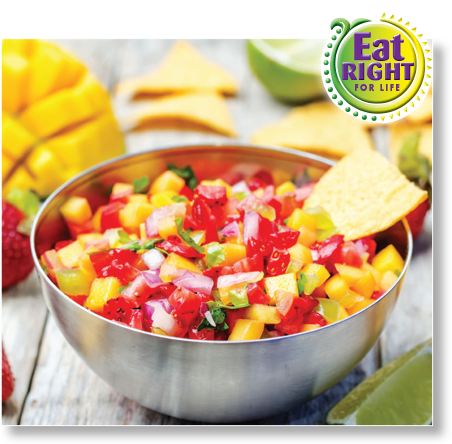 1 mango, peeled, pitted and finely chopped
1 small jalapeño pepper, seeded and finely chopped
1/2 cup finely chopped strawberries
3 Tbsps. finely chopped red onion
2 Tbsps. chopped fresh cilantro
1 Tbsp. lime juice
1/4 tsp. salt
1/4 tsp. black pepper
Directions:
In large bowl, stir together the mango, jalapeño pepper, strawberries, onion, cilantro, lime juice, salt and black pepper. Makes about 2 cups.


Dietitians Dish – May 09, 2022

Get Your Grill On!
If you use the grill to just cook up protein (like meat, poultry, seafood, etc.), then you're missing out. Fruits and veggies taste fabulous grilled! Both take on a sweetness that you don't get from their raw forms. Cutting them into smaller sizes and cooking on skewers speeds up cook time. Try these delicious options next time you fire up the grill!
Pork Tenderloin and Vegetable Kabobs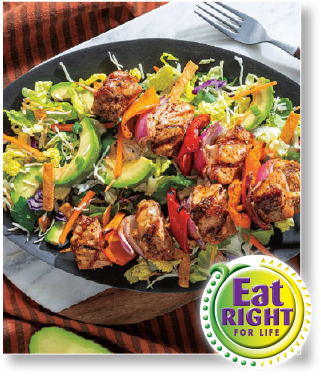 12 (10-inch) wooden skewers
2 Tbsps. fresh lime juice
2 Tbsps. olive oil
2 tsps. lime zest
1-1/2 tsps. chili powder
1/2 tsp. kosher salt
1/2 tsp. fresh ground black pepper
2 small pork tenderloins, cut into 1-1/2-inch pieces
2 orange and/or red bell peppers, cut into 1-1/2-inch pieces
1 small onion, cut into 1-1/2-inch pieces
Directions:
Prepare outdoor grill for direct grilling over medium-high heat; soak skewers in water 20 minutes. In medium bowl, whisk lime juice, oil, lime zest, chili powder, salt and black pepper; add pork and toss.
Alternately thread pork, bell peppers and onion onto skewers. Place skewers on hot grill rack; cover and cook 13 minutes or until internal temperature of pork reaches 145°, turning once.
Grilled Fruit Taco
4 (10-inch) wooden skewers
1/4 cup brown sugar & cinnamon cream cheese, softened
2 Tbsps. fresh orange juice
1 Tbsp. granulated sugar
1 tsp. ground cinnamon
2 kiwis, peeled and cut in 1-inch pcs.
1 large ripe mango, peeled, pitted, and cut in 1-inch pcs.
1 cup halved strawberries
8 (4-inch) street taco flour tortillas
1/4 cup sliced almonds, toasted
1 Tbsp. chopped fresh basil
Directions:
Soak skewers in water 30 minutes. In small bowl, stir cream cheese and orange juice; in separate small bowl, combine sugar and cinnamon.
Prepare outdoor grill for direct grilling over medium heat. Alternately thread kiwi, mango, and strawberries onto skewers; lightly spray with cooking spray. Lay tortillas on work surface; lightly spray with cooking spray and sprinkle with cinnamon-sugar mixture.
Place fruit skewers on hot grill rack; cook 3 minutes, turning once. Place tortillas, cinnamon-sugar side down, on hot grill rack; cook 1 minute.
Remove fruit from skewers. Spread plain side of tortillas with cream cheese mixture; fill with fruit, almonds, and basil.


Dietitians Dish – May 02, 2022

Simplified Veggie-Filled Dinners
Sheet pan and foil packet meals are simple ways to add more vegetables that don't require much hands-on time or kitchen clean-up. They save time and don't require a lot of cooking skills. So, they're great for home cooks with limited experience in the kitchen. Save more time on busy weeknights. Clean and chop up veggies when you first get back from shopping. Makes it easier to pull together a meal when time is more limited. These foil packets from Mrs. T's combine frozen and pre-cooked ingredients, along with lots of veggies and a freshly prepared dressing. It's a great idea for a home-cooked dinner when you have a packed schedule and little time to cook.
Pierogies and Sausage Foil Packet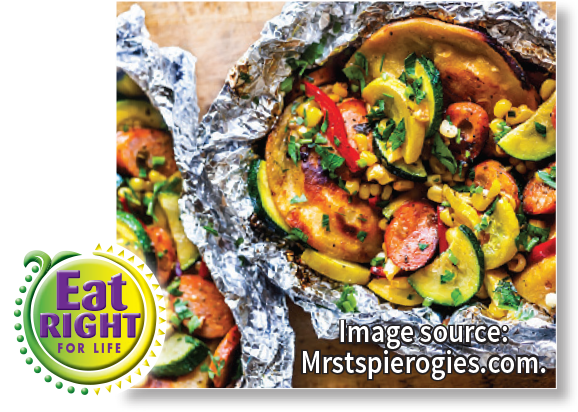 1 box Mrs. T's Pierogies
10 oz. fully cooked chicken apple sausage, sliced
2 cups zucchini, sliced
2 cups yellow squash, sliced
2 cups frozen corn
1 large red bell pepper, cored and sliced
Lemon parsley dressing (see below)
Directions:
Preheat grill to 400°F. Prepare 4 (12×14-inch) sheets of heavy-duty aluminum foil (or double layers of regular foil) sprayed with non-stick cooking spray; set aside.
In a large bowl, toss pierogies, sausage, zucchini, yellow squash, corn, and red bell pepper with the lemon parsley dressing.
Lay a prepared sheet of foil on a flat surface.
Evenly divide pierogies, sausage and vegetable mixture between 4 foil packets.
Bring the short ends of the foil together and fold twice to seal. Fold the sides towards the center, making sure to leave room for steam.
Place foil packets on the grill. Grill for 16 minutes, flipping packets halfway through cook time.
Lemon Parsley Dressing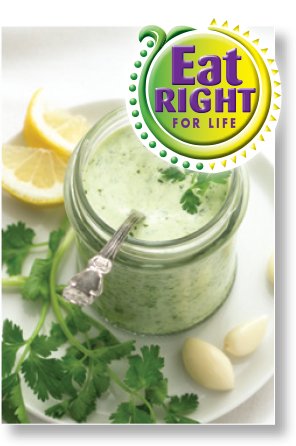 1/2 cup fresh parsley, minced
1/4 cup extra-virgin olive oil
3 Tbsps. Dijon mustard
1 Tbsp. lemon zest
2 tsps. low-sodium soy sauce
1 large clove garlic, minced
1 tsp. dry mustard
1 tsp. garlic powder
1 tsp. salt
Ground black pepper, to taste
Directions:
In a small jar, add all ingredients. Screw lid tightly into place and shake until the dressing is well-combined; set aside.

Find these and other recipes at Mrstspierogies.com.


Dietitians Dish – April 25, 2022

Make Your
Best

Casserole Yet!

Casseroles are an affordable meal option that can combine pantry staples and frozen veggies with small amounts of fresh meat and produce. Choosing quality ingredients from Best Yet® helps keep ingredient costs lower, which is key these days! With a variety of flavor combinations, casseroles are easy weeknight meals. With simple prep and hands off cooking, you can regain some precious time for the family before dinner is served. Plus, any leftovers can easily become lunch for another day to avoid extra servings going to waste.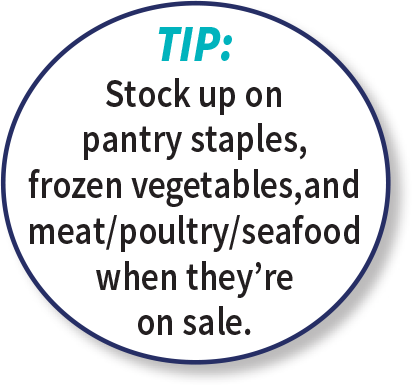 Use extra rice and chicken to create a Fajita casserole. Find a recipe or create your own by adding some chicken stock and canned tomatoes, frozen peppers & onions, and a packet of fajita seasoning. Use the Lemon Chicken casserole below as your guide. Make sure you include enough chicken stock and juice from the tomatoes to cook the rice. Then swap out other ingredients in similar quantities.
Lemon Chicken & Rice Casserole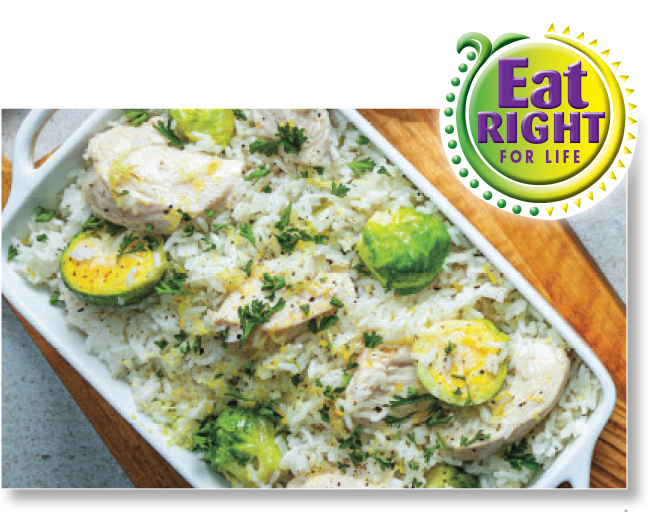 1 lb. boneless, skinless chicken breasts or tenders
1 (12-ounce) bag frozen Brussels sprouts
2-1/4 cups unsalted chicken stock
1 cup uncooked long grain rice
1 lemon
1/2 tsp. salt
1/2 tsp. pepper
Directions:
Preheat oven to 400°F; spray 8-inch square baking dish with cooking spray.
Cut chicken into 1-1/2-inch pieces; add to a large bowl. Next, add frozen Brussels sprouts and chicken stock to the bowl. Add uncooked rice to the same bowl.
Zest lemon, adding 1 Tbsp. of zest to the same bowl. Squeeze lemon juice into a cup and use 2 Tbsps. added to the bowl. Add salt and pepper. Stir chicken mixture and spread into prepared dish; cover with aluminum foil and roast for 45 minutes or until rice is tender and internal temperature of chicken reaches 165°F.


Dietitians Dish – April 18, 2022

Save Time and Money – Stock Up and Prep!
With pandemic inflation causing food prices to soar, finding ways to keep the costs down is increasingly important. If you see a great price on something like Split Chicken Breast, STOCK UP! The convenience of boneless, skinless chicken is great, but not always worth the higher cost. With minimal prep and a simple hands-off cooking method you can prepare flavorful chicken that can be used in a variety of other recipes. Stock up on frozen or canned fruits and vegetables (without sugar or sauces).
Choose fresh produce that is in-season.
These cost-conscious items can be used in a variety of meals.
How to Roast Split Chicken Breasts:
1. Preheat oven to 350ᵒF. Prepare baking sheet by lining with foil or parchment paper.
2. Place 4 split chicken breasts with bones face down on the tray. Brush with olive oil and sprinkle with salt & pepper.
3. Bake for 55-60 minutes, or until internal temperature reaches 165ᵒF. (Don't touch thermometer to the bone – it absorbs more heat!)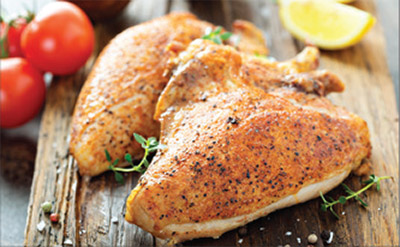 See how simple it is to prepare these stuffed peppers: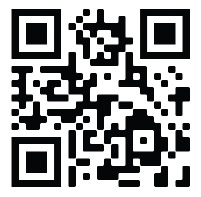 Quinoa Fried Rice with Roasted Chicken Stuffed Peppers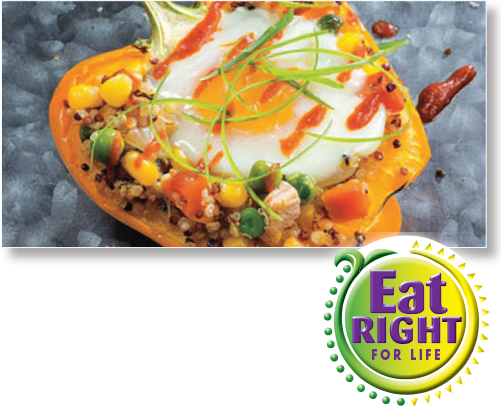 1/4 cup quinoa, rinsed and drained
2 large bell peppers, halved & seeded
1 Tbsp. sesame oil
3 Tbsps. chopped white onion
1 garlic clove, minced
1-3/4 cups frozen mixed vegetables (carrots, green beans, corn and peas)
1 cup chopped roasted chicken
1-1/2 Tbsps. less-sodium soy sauce
1/2 tsp. grated fresh ginger
4 large eggs
1 Tbsp. sriracha chili sauce
1 green onion, thinly sliced
Directions:
Preheat oven to 350°. Prepare quinoa as label directs.
Place peppers, cut side up, on rimmed baking pan. In large skillet, heat oil over medium-high heat. Add onion; cook 2 minutes, stirring occasionally. Add garlic; cook 30 seconds, stirring occasionally. Add frozen vegetables; cook 5 minutes, stirring occasionally. Remove from heat; stir in chicken, soy sauce, ginger and quinoa.
Fill peppers with quinoa mixture; bake 20 minutes or until peppers are tender. Crack 1 egg onto each pepper; bake 15 minutes or until egg whites are cooked through and yolks are slightly soft. Drizzle peppers with sriracha; sprinkle with green onion.