Dietitians Dish – May 22, 2023

Hooray for Red, White, and Blue Foods!
Fruit (such as berries) contains fructose, a natural sugar that doesn't require insulin to be metabolized. Because of the fructose content, fruit tends to be well-tolerated by people with diabetes. But portion control is still key.
One diabetic exchange for a serving of berries is:
Strawberries – 1-1/4 cup
Blueberries – 3/4 cup
Blackberries – 3/4 cup
Raspberries – 1 cup
Berries contain flavonoids which are more powerful antioxidants than Vitamins C & E. Their presence helps Vitamin C work more eff ectively. Strawberries are also a good source of folate, which is important for heart health. Serve up some red, white, and blue for Memorial Day or anytime, and reap the benefits from their preventative powers!
Strawberry Blackberry Quinoa with Honey Dressing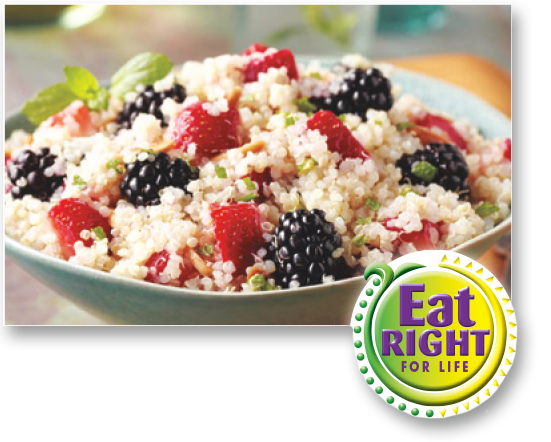 Ingredients:
2 cups water
1 cup quinoa, rinsed
1 pkg. (16 ozs.) strawberries
2 Tbsps. honey
2 Tbsps. lemon juice
1/4 tsp. salt
1 tsp. salt
1 pkg. (6 ozs.) blackberries
3/4 cup toasted slivered almonds
1 Tbsp. chopped fresh mint leaves
Directions:
Place water and quinoa in a medium saucepan and bring to a boil, stirring occasionally. Reduce heat to low, cover and simmer 18-20 minutes or until most water has been absorbed. Remove from heat and let stand covered for 5 minutes.
Meanwhile, hull strawberries and chop. In a small bowl, whisk together honey, lemon juice, and salt until blended. Stir honey mixture into quinoa. Fold in strawberries, blueberries, almonds, and mint until evenly blended.
Recipe and Image source Driscolls.com..
Strawberry and Blueberry Watermelon Mint Salad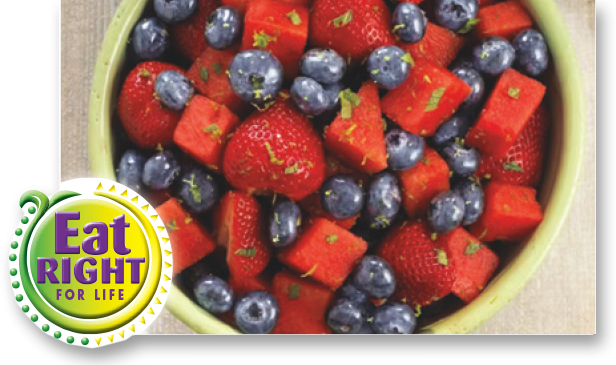 3 Tbsps. sugar
3 Tbsps. water
1 tsp. grated lime zest
1 pkg. (16 ozs.) strawberries
3 cups cubed watermelon
1 pkg. (6 ozs.) blueberries
5-6 Tbsps. large mint leaves
Directions:
Combine sugar, water, and lime zest in a small saucepan. Heat sugar mixture over
medium-high heat until it comes to a boil. Remove sugar mixture from heat.
Allow it to cool as rest of ingredients are prepared.
Hull strawberries. Cut watermelon into 1/2-inch to 3/4-inch cubes. Chop mint leaves.
Combine strawberries, watermelon, blueberries, mint, and sugar mixture in a large serving bowl. Toss salad gently to mix evenly. Serve immediately.
Recipe and Image source Driscolls.com..


Dietitians Dish – May 15, 2023

Add Color and Flavor for Better Nutrition!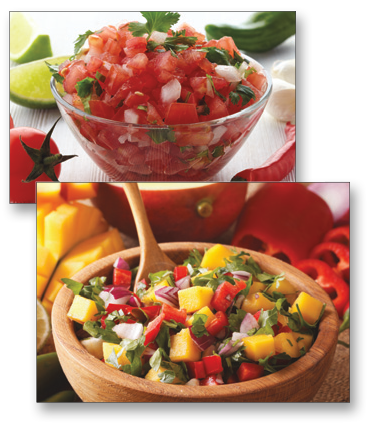 So much about food and nutrition is about what we need to limit or take away, but we should be focusing on what to add! Choosing meals that are high in good nutrients and finding ways to add another serving of fruits or vegetables is ideal. Rather than focusing on what you can't or shouldn't have, find ways to make what you can more exciting! A fresh variety of foods and flavors can make eating an elevated experience, rather than being deprived. This salmon with a new combination of salsa ingredients looks and tastes amazing! It loads your meal with heart-healthy Omega-3 fats, and other nutrients along with hydration from the watermelon. Why not add some colorful flavor to your next meal?
Broiled Salmon with Watermelon Avocado Salsa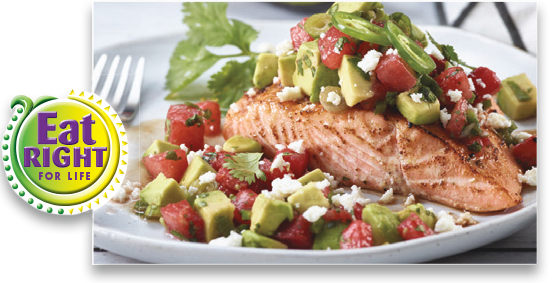 1 cup watermelon juice*
4 salmon filets, about 6 ozs. each
1 Tbsp. canola oil
2 Tbsps. agave
2 Tbsps. soy sauce
1 garlic clove, grated
Salt and pepper to taste
1 cup seedless watermelon, diced
2 large avocados, diced
1/4 cup chopped cilantro leaves
3 green onions chopped
2 Tbsps. lime juice
1/2 cup crumbled queso fresco
1 small jalapeño, seeds removed, diced
Dash salt to taste
*TO MAKE YOUR OWN WATERMELON JUICE, PUT 2 CUPS CUBED SEEDLESS WATERMELON IN A FOOD PROCESSOR AND PULSE UNTIL SMOOTH. POUR THE PUREE THROUGH A FINE MESH SIEVE, PRESSING THE JUICE THROUGH WITH A SPOON OR SPATULA. THIS SHOULD YIELD ABOUT 1 CUP OF JUICE.
Directions:
In a medium bowl, combine the lime juice, jalapeño, green onions, and cilantro leaves. Whisk to combine, then add the watermelon and avocados to the bowl. Top with crumbled queso fresco. Season to taste with salt and gently toss to combine.
Preheat the broiler and move a rack to the upper third of the oven.
Combine the watermelon juice, agave, soy sauce and garlic in a liquid measuring cup and set aside.
Heat the canola oil in a large, oven-proof, nonstick skillet over medium high heat. Add the salmon and cook for 2-3 minutes, then flip and repeat on the second side.
Add the watermelon juice mixture to the pan and bring to a simmer. Cook for 1-2 minutes or until the liquid has reduced slightly. Turn the salmon to coat it with the sauce, then transfer the pan to the oven. Broil for 2-3 minutes or until the salmon begins to get slightly crisp and brown on top.
Season to taste with salt and pepper, then transfer to a serving platter. Top with the salsa and additional glaze from the pan. Serve immediately.
Recipe and image courtesy of Watermelon.org.
Lower Your Carbon Footprint – Waste Less Food!
Food is a type of organic waste that emits methane gas when broken down. That same methane gas is significantly affecting climate change. Wasting food also squanders the resources used to produce it. The EPA says preventing food waste is one of the easiest and strongest actions you can take to save money and lower your climate change footprint. Search for recipes using food scraps you have left over from other recipes. Start with these delicious recipes that use watermelon rind (without the green skin) and potato peels!
Watermelon Rind Caprese Pasta Salad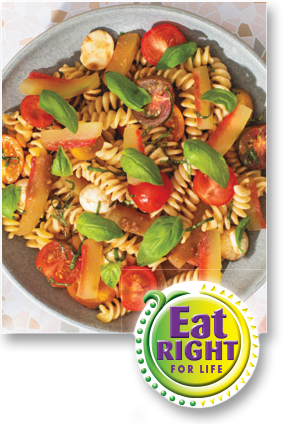 Ingredients:
2 cups sliced, peeled watermelon rind with thin layer of pink flesh attached (1-1/2 x 1/4 – inch pieces)
12 oz. whole grain fusilli pasta
1/2 cup extra virgin olive oil
1/4 cup balsamic vinegar
1 Tbsp. Dijon mustard
2 cloves garlic, minced
1 tsp. salt
1/2 tsp. black pepper
1 lb. cherry tomatoes, halved
8 oz. fresh mozzarella pearls
1/2 cup thinly sliced fresh basil leaves
Directions:
Cook fusilli according to package directions, adding watermelon rind in the last 3 to 4 minutes of cooking, until pasta is al dente and watermelon rind is tender. Drain and rinse until cold water to stop the cooking process. Cool completely.
In a small bowl, whisk together oil, vinegar, mustard, garlic, salt, and pepper until combined.
In large bowl, toss pasta and watermelon rind with dressing until well coated. Fold in tomatoes, cheese, and basil.
Recipe and Image courtesy of Watermelon.org.
Potato Peel Crisps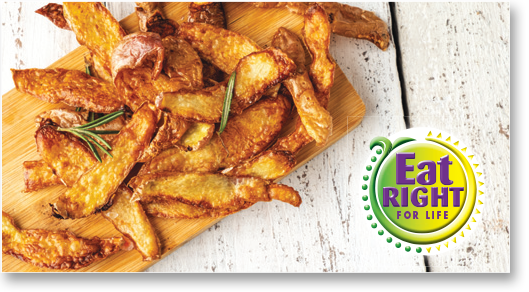 1 cup potato peels
1 Tbsp. olive oil
1/4 tsp. salt
1 tsp. spices (salt-free)
Directions:
Preheat oven to 400oF. Wash and dry potatoes well before peeling them. Remove any rotten spots. Use the potatoes in another recipe.
Spread the peels out in a single layer on a baking sheet and sprinkle with oil. Move the peels around so they get coated in oil.
Cook for 10 minutes, then turn the peels over and cook an additional 5 minutes until crisp and golden. When crisped to your liking, remove the pan from the oven.
Put the crisped peels into a large bowl and sprinkle on salt and spices. Mix thoroughly to distribute seasonings. Serve as a nutritious alternative to bagged chips!
Build a Bowl with Plant-Based Benefits
Bowl meals and salad greens with lots of nutritious toppings are a lasting trend. They're a great meal option where ingredients can be prepped ahead, making it simpler to feed the family on busy weeknights. Include a variety of fresh fruits and veggies, leafy greens, whole grains, beans, nuts, and seeds to create a delicious plant-based meal. Another bonus is bowl meals are great for DIY dinners! Everyone can include items they prefer.
Did you know…?
Avocados are a FRUIT with heart healthy fat and nearly 20 vitamins and minerals. Mangos have no sodium, fat, or cholesterol, and have over 20 vitamins and minerals. Shrimp has protein plus beneficial omega-3 fats, iron, selenium, potassium and magnesium.
Thai Avocado Shrimp Bowl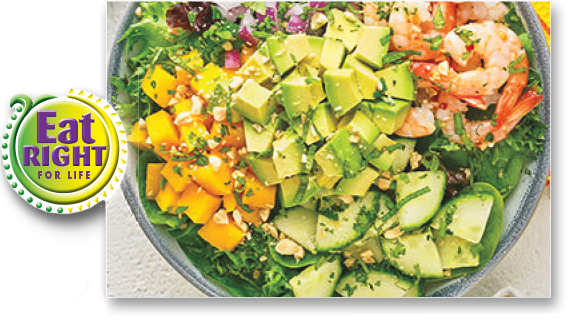 1/4 cup water
1/4 cup rice vinegar
1/4 cup sugar
1 clove garlic, minced
1/2 tsp. ginger, minced
1/2 tsp. crushed red pepper flakes
1/2 tsp. ketchup
1/2 tsp. cornstarch
8 cups mixed greens
1 lb. cocktail shrimp, cooked
4 cups mango, peeled and diced
2 avocados, diced
2 cups cucumber, diced
1/4 cup peanuts, chopped
1/4 cup red onion, diced
Mint, chopped (garnish)
Cilantro, chopped (garnish)
Directions:
In a medium pot on medium heat, add water, rice vinegar, sugar, ginger, garlic, red pepper, ketchup, and cornstarch. Simmer and stir until well combined and thickened, approximately 5 minutes to make the sweet chili vinaigrette.
In a large bowl, add shrimp and stir in sweet chili vinaigrette until well combined.
In large bowls, evenly distribute mixed greens, mango, cucumber, avocado, shrimp, peanuts, red onion and garnish with mint and cilantro.
Recipe and image courtesy of Avocados from Mexico.


Dietitians Dish – April 24, 2023

Grill Up Great Eats!
The weather is finally getting nicer, so pick your protein and get grilling! In general, red meats have more saturated fat than skinless chicken, fish and plant proteins. Saturated fats can raise your blood cholesterol and increase your risk of heart disease. If you eat poultry, pork, beef, or other meats, choose lean meat, skinless poultry, and unprocessed forms. Also choose healthy portions that aren't too large. If you purchased more than you'll use at one meal, separate and freeze any uncooked portions. You could also cook the extra and use it in a second recipe for the week. Cooking larger portions saves you some time when cooking another night.
5-Ingredient Grilled Rosemary-Garlic Drumsticks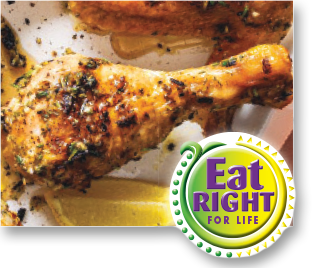 Ingredients:
8 garlic cloves, minced
1/4 cup plus 2 Tbsps. finely chopped fresh rosemary
1/4 cup plus 2 Tbsps. olive oil
2 Tbsps. lemon zest
2 Tbsps. fresh lemon juice
1 tsp. kosher salt
1/2 tsp. pepper
16 pieces bone-in, skin-on chicken drumsticks
Directions:
Prepare outdoor grill for direct grilling over medium-high heat. In small bowl, whisk garlic, rosemary, oil, lemon zest and lemon juice, salt, and pepper. Pat chicken dry with paper towel; rub with garlic mixture.
Place chicken on hot grill rack; cover and cook 20 minutes or until internal temperature
reaches 165°, turning frequently.
Serve 8 pieces chicken while hot. Cool, cover and refrigerate remaining 8 pieces chicken
up to 3 days. Use left over chicken in the Chicken, Watermelon & Feta Farro Bowl with
Creamy Dill Dressing recipe.
Chicken,Watermelon and Feta Farro Bowl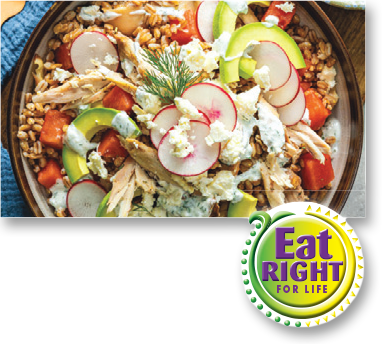 1 cup dry farro
8 pieces left over 5-Ingredient Grilled Rosemary-Garlic Drumsticks
1 container (5.3 ounces) plain Greek yogurt
2 Tbsps. chopped fresh dill
2 Tbsps. fresh lime juice
2 Tbsps. whole milk
1/4 tsp. salt
1/4 tsp. ground black pepper
3 cups chopped watermelon
4 small radishes, quartered
1 small avocado, peeled, pitted and sliced
1/4 cup crumbled feta cheese
Directions:
Prepare farro as label directs; cool 10 minutes. Makes about 2 cups.
Remove chicken skin and meat from bones, discarding the skin and bones. Shred chicken meat. Makes about 2-2/3 cups chicken.
In small bowl, whisk yogurt, dill, lime juice, milk, salt and pepper. Makes about 2/3 cup.
In large bowl, toss watermelon, farro and chicken. Makes about 8 cups.
Divide watermelon mixture into 4 bowls and drizzle with yogurt mixture then top with radishes, avocado and cheese.