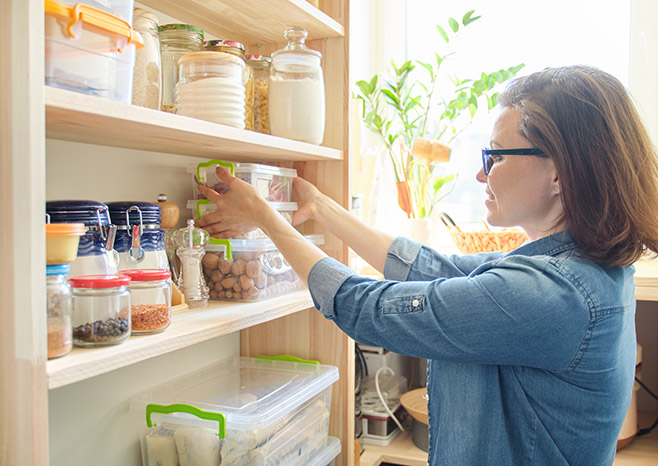 Healthy Pantry Essentials

In the last decade, online grocery shopping and meal-delivery services have made preparing meals at home much easier for busy people. But there will always be those evenings when we rush home from work to find the cupboard is bare or only contains unhealthy or unappetizing options. Keeping a well-stocked pantry, filled with healthful, easy-to-prepare ingredients, will help you eat better and stress less when you don't have time or forget to shop.

The Basic Pantry
To clarify, we're using "pantry" to describe permanent, in-stock ingredients that you store in your cupboard or closet and spice cabinet. Think of them as the building blocks for a innumerable delicious, healthy meals that you can throw together in different combinations, anytime.
Dry Goods
• Whole wheat and all-purpose flour
• Oats
• Cornstarch
• Dried beans
• Meat or vegetable stock
• Brown rice
• Lentils
• Barley
• Quinoa
• Whole wheat pasta
• Whole wheat bread crumbs
• Nuts and seeds (walnuts, almonds, unsalted peanuts, hazelnuts, cashews, sesame seeds, pumpkin seeds)
• Polenta
• Couscous
• Cornmeal
• Capers
• Dried fruit

Canned Goods
• Tomatoes (sauce, diced, crushed, whole, paste)
• Beans (kidney, garbanzo, black, navy)
• Stock (beef, chicken, vegetable)
• Corn
• Pumpkin
• Fruit (in water)
• Tuna (in water)
• Soup

Oils and Seasonings
• Oils (olive, vegetable, grapeseed, sesame)
• Vinegars (red wine, apple cider, balsamic, sherry, rice)
• Sauces (Worcestershire, fish, soy, chili, Sriracha, ketchup, whole grain mustard)
• Dried herbs (rosemary, basil, ginger, mint, oregano, thyme, tarragon, dill, marjoram, bay leaves, sage)
• Spices (cinnamon, cumin, curry, chili powder, turmeric, nutmeg, cloves, fennel, coriander, cayenne, ginger, mustard, star anise, allspice)
• Kosher or sea salt
• Whole black peppercorns
• Peanut butter
• Garlic
• Onions
Of course you'll need to shop for fresh fruits, vegetables and proteins, but these basic pantry items give you more than enough options to create a multitude of dishes and should last quite a while when properly stored. For example, canned tomatoes, beans, and vegetable broth can become a hearty, fragrant soup, redolent of garlic and rosemary, in 30 minutes. Once you have all the essentials on hand, you can create homemade, healthy meals anytime, right from your own pantry.