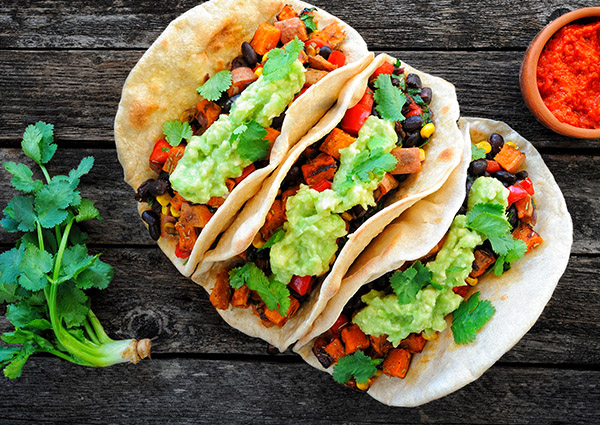 Kid-Friendly Vegetarian Meals for Easy Meatless Weeknights

Having a weekly meatless meal is a simple way to try new vegetarian recipes and grow your dinner repertoire and expand the kids' palates. To get the whole family on board, choose foods that are known to be kid-favorites. Use familiar bases and incorporate meal components kids love like dips, crunchiness or gooey cheesiness.
Mac and Cheese. Mac and cheese doesn't typically include meat, but it's a kid-favorite that's a great vessel for sneaking in more veggies. Cook squash, carrots and cauliflower until softened. Blend until smooth, then cook with milk and cheese and combine with your kids' preferred pasta (likely elbows). Or take their usual macaroni and sprinkle in some nutritional yeast, which has a mild, buttery flavor and extra protein, vitamins and minerals.
Veggie Chili. This classic comfort food is easily adapted to a meatless meal. For simplicity, start with a can of chili beans, add another can of beans (any kind, white, black, pinto, etc.), tomato sauce and season to your kids' tastes. Pump up the nutrition with veggies like chopped onions, celery or carrots. For a nice "meaty" touch, add some chopped walnuts. Serve over plain pasta or cornbread and top with Cheddar cheese.
Healthy Tacos. Tacos are easily enjoyed vegetarian-style, with a preferred bean and cheese. They're a great option for incorporating other veg-friendly choices, such as pulled jackfruit or cauliflower crumbles cooked with taco seasoning. Increase the fiber intake by adding rice or serving it up on the side. Be sure to add some lettuce, red cabbage or shredded carrots for some crunch factor.
Veggie Burgers and Sweet Potato Fries. Veggie burgers are simple, quick and rich in protein. You can make them with chickpeas, black beans, white beans and/or pumpkin purée. Just add chopped walnuts and egg or flaxseed, and you'll have the base. Season as desired. Add your kids' usual burger toppings and serve with sweet potato fries prepared in the air fryer or baked in the oven.
Falafel. Crunchy falafel balls are made with chickpeas and can be spiced to match your children's palates. To make them healthier, prepare in an air fryer. Then serve with a creamy yogurt dip along with a side of hummus and pita bread.
These meatless meal ideas are just a start. Other options to try include air fryer popcorn cauliflower or oven-fried barbeque cauliflower wings, pizza topped with veggies and cheese, cheesy lasagna with carrots and spinach, and veggie stir-fry. Getting kids to go meatless will be easy with foods like this!