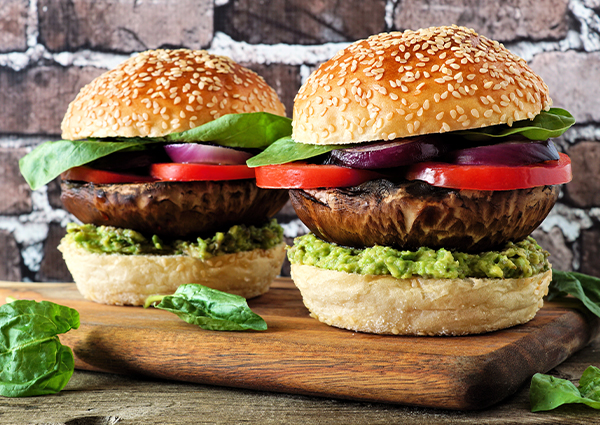 Plant-Based Diets for Meat Lovers

Think a meal is only complete when meat is involved? Don't worry – you're not alone. While many meat-eaters shift to plant-based eating for various reasons, they often struggle to take the meat out of the spotlight.
Luckily, there are numerous ways to consume delicious meals made with more of the essential nutrients your body needs without always depending on meat. We're providing tips and tricks to help you forget that your plant-based meals contain no meat! Use the following ideas and inspiration to make more meatless meals that are hearty, healthy and delicious.
Shift Your Mindset
When it comes to lifestyle changes, mindset is everything. It's no secret that reducing or eliminating meat from your diet can be challenging. But instead of focusing on what you're subtracting, consider all the delicious ingredients you can add to your meals, whether it's fruits, vegetables or grains. Plus, since veg-centric foods often contain fewer calories, you can typically consume more.
Start Small
Small changes make more of an impact than big ones. Going cold turkey into the plant-based world may be overwhelming. Instead, start with small changes in your diet. Set realistic goals like starting with Meatless Mondays or only eating meat two days per week.
Mind the Prep
Use familiar cooking methods, herbs, spices and sauces to make the transition into plant-based eating easier. Keep herbs and spices like basil, rosemary, oregano, chili powder and garlic powder on hand to add familiar flavor notes to meat-free dishes. Try grilling romaine for a smoky salad or pan-searing cauliflower steaks like a traditional steak. For sauces, think salsa, guacamole and vegetarian varieties to add to salads, spread on sandwiches or toss with roasted veggies.
Lean on Alternatives & Substitutes
Can you have a meat-like eating experience without actually eating meat? With plant-based alternatives and substitutes, you can. Products like vegan cheeses, vegan mayonnaise and soy-based chicken or meats make it easy to eat plant-based without missing the tastes and textures traditional animal-based foods offer.
Plant-Based Recipe Ideas
Not sure where to start on your plant-based journey? Use our plant-based inspiration to bring flavor-forward meatless meals into your kitchen.
Black Bean, Quinoa & Grilled Veggie Tacos
Grilled Portobello Mushroom Burgers
Mediterranean Red Lentil & Swiss Chard Soup
Linguine with Tomato, Kale and Portobello "Bacon"
Mini Vegetarian Pot Pies
One-Pot Lemony Broccoli-Parmesan Pasta
Plant-Based "Chicken" Alfredo