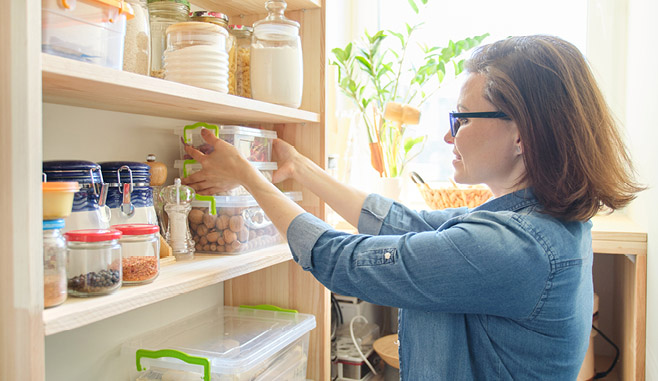 October 3, 2020
Stock Up Saturday!
One key to eating better and not wasting a lot of money on fast food (which doesn't tend to be all that fast) is keeping a stocked pantry and freezer. Check out the sales circular for items that would be good to buy in greater quantity and keep on hand. When stocking up on canned goods, try for ones identified with lower sodium or no salt added. Think veggies, soups, fish, beans, etc.
Fill the pantry with brown rice, quinoa and other grains; pasta, dried beans and other shelf-stable goods that can be stored for a long time. The nice thing is that when you have some time, you can cook them in large batches and freeze the extra. It helps to reduce cook time for a future meal. Having cooked rice frozen in a single serving can make it easy to build a grain bowl. Just top it with fresh, frozen or canned ingredients, some lean meat or beans and the crunch of nuts or seeds. Add some flavor with a drizzle of dressing or marinade.
Using pantry and freezer stock for quick meal ideas is a great kitchen hack! For more ideas on how to stock the pantry, check out Healthy Pantry Essentials.