Dietitians Dish – September 14, 2020
Fall for fruits and veggies!
Selection:
Firm and free of cuts, punctures, or spots
Yellow in color and heavy for its size
Storage:
Store in a cool, dry place for up to 1 month.
Once cut, refrigerate (covered in plastic wrap) for up to 5 days.
There are lots of great ways use spaghetti squash –
as a simple replacement for pasta in a favorite dish or a in new flavorful recipe.
Spaghetti Squash with Tomatoes and Herbs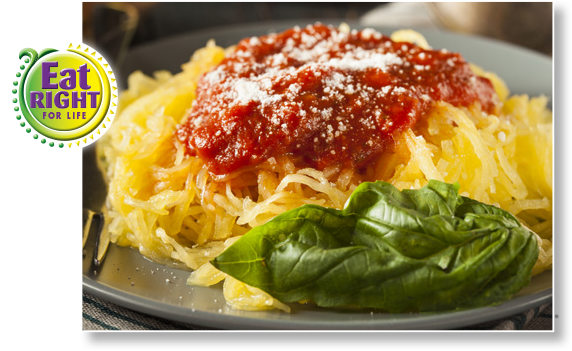 Ingredients:
1 medium spaghetti squash
2 cloves garlic, minced
2 tsps. Olive oil
1 can diced tomatoes, drained (low-sodium or no salt added)
1 Tbsp. basil, chopped
1/8 tsp. dried oregano
2-3 Tbsps. grated Parmesan cheese
Directions:
Pierce a few holes in the squash with a large knife. Place in the microwave on high for 7-10 minutes until the skin gives easily under pressure and the inside is tender.
Let cool for 10 minutes, then halve lengthwise or crosswise. Scoop out seeds and fibers and discard.
Use a fork to scrape out the squash flesh. It will naturally separate into noodle-like strands.
While waiting for the squash to cool, sauté minced garlic in the olive oil until it's softened and fragrant. Add the tomatoes, basil, and oregano to the garlic and simmer for 10-15 minutes.
Spoon the garlic-tomato mixture on top of squash strands. Top with grated Parmesan and serve.
Recipe and photo source: Fruitsandveggies.org