Dietitian's Dish – March 25, 2019

Did You Know?
Beef is a great source of 10 essential nutrients including protein, B vitamins, zinc and iron
Half of the fatty acids in beef are monounsaturated – the same heart-healthy type of fat found in olive oil
Protein in one (3.5 oz.) serving of beef = protein in 3 cups of quinoa
Many Mediterranean countries eat about the same amount of red meat as in the US, but pair it with more fresh vegetables and fruits, whole grains and healthy oils
TOP ROUND LONDON BROIL:
This leaner cut of beef is best when marinated and cooked using a high-heat method:
•Grilled
•Stir-Fried
•Pan-Fried
•Oven-Broiled
NUTRITIONAL VALUE (3 oz. cooked):
140 calories (8%*)
1.3g saturated fat (7% DV*)
25g protein (51% DV*)
2.7mg iron (15% DV*)
4.3mg zinc (30% DV*)
*based on a 2,000 calorie diet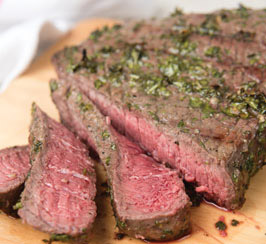 Grilled London Broil
---
Ingredients:
1
pound beef Top Round Steak, cut 1-inch thick
Marinade
1/3
cup red wine vinaigrette
1/2
teaspoon dried basil leaves
Vegetables
2
medium red onions, each cut into 8 wedges
1
pound fresh asparagus, trimmed
4
tablespoons red wine vinaigrette, divided
Directions:
1.Combine marinade ingredients in food-safe plastic bag. Place beef steak in marinade; turn steak to coat. Close bag securely and marinate in refrigerator 6 hours or as long as overnight, turning occasionally.

2.Remove steak from marinade; discard marinade remaining in the bag. Place steak on a gas grill (preheated to medium); arrange onions and asparagus around the steak and cover. Grill steak, 16-19 minutes for medium rare (145°F) turning occasionally. Grill onion wedges, 15-20 minutes, turning occasionally. Grill asparagus, 8-12 minutes or until crisp-tender, turning occasionally.

3.Toss onions and asparagus with 3 tablespoons vinaigrette. Carve steak across the grain into thin slices. Season with salt and pepper, as desired. Drizzle steak with remaining 1 tablespoon vinaigrette. Serve steak with vegetables.

Recipe adapted from BeefItsWhatsForDinner.com