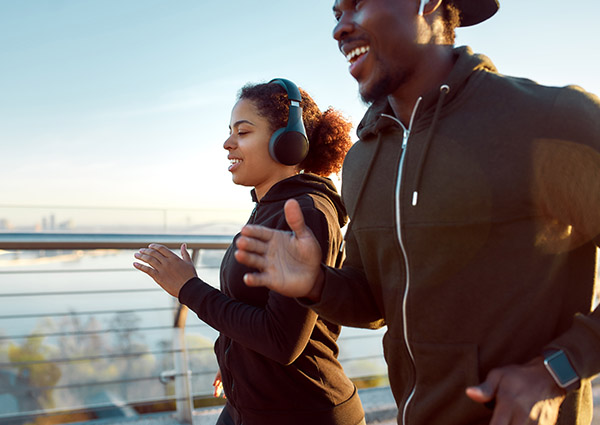 10 Tips for Staying Consistent with Working Out

Experts tell us we should aim for about 150 minutes of cardio exercise and a couple of strength-training sessions weekly. But how can you stay on track to accomplish your fitness goals?
Solidify your commitment. Put your workout on the calendar, announce it on social media or just tell your friends or family. Even inking it in your journal will firm your intentions.

Enlist a workout buddy. It's harder to shrug off your daily walk when your friend is waiting. Likewise, it's hard to tell your spouse you couldn't get to the gym when they know how you spent your day.

Use tools to track your progress. Get a fitness tracker, use an app or turn a simple notebook into your fitness journal. By observing your time spent and goals met, you'll be spurred to more success.

Make an investment (of time or money). Join a gym, sign up for a class or join a team like a softball, volleyball, golf or walking club. By taking the extra step, you're more likely to succeed with your workout aspirations.

Keep it social. Instead of meeting your friend at a restaurant, head to the park for a walk and bring a sack lunch. Take your sweetie for a bike ride, an afternoon kayaking session or a scenic hike instead of to a movie or dinner.

Start your day with self-care. Go to bed early and set the alarm a bit sooner. Take five minutes to meditate, to clear cluttered thoughts and set intentions for a healthy day. Also, lay out your workout wear and shoes the night before. Fill that water bottle, too.

Find time for mini workouts. Stretch at your work desk; get in some squats or a quick jog around the building at work. Keep dumbbells near the TV and redeem couch potato time. Park further away, take the stairs and stand up at your desk at least part of the day.

No vacations from health. On the road for work or on vacation? Only stay at hotels with gyms and/or pools, and pack a yoga mat or jump rope.

Reward yourself. Set small goals and enjoy achieving them. Buy a new pair of sneakers, grab a new yoga mat or splurge on a massage.

Maintain a proper mindset. Relish the time you spend being active and caring for your body, and see it as a positive thing you get to do. Exercise isn't a chore or drudgery; it's a gift to yourself.