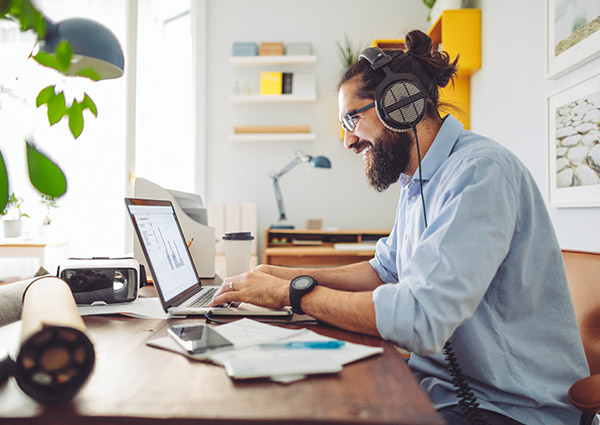 How to Keep Your Mental Health in Check While Working from Home

The COVID-19 pandemic changed nearly everything in our lives in some way, including work. For the lucky ones who continued employment, many had to adjust to working from home. Fast forward to today, and the temporary solution of remote work has continued for many.
Here are some ideas to make the home office a more workable solution:
Have a place and time for everything work-related. Flexibility is good, but having a general schedule creates necessary boundaries. Create a reasonable schedule and take advantage of your most productive work times if possible.
Having a space that's dedicated to working can make a huge difference in WFH success. It doesn't need to be an entire room, although that's great if you can swing it. You can take a corner of the bedroom, a section of the basement or the dining table. Just make it so you can leave things out as needed or easily store work at the end of the workday. Try fold-down tables, wheeled laptop desks, and coffee tables with hidden storage.
Find a way to integrate family and work time. Try to schedule Zoom meetings during naptime or when your partner is home. Plan short but regular breaks to snack with the family and just quickly connect throughout the day. Giving small bits of attention when you can will go a long way in avoiding meltdowns (yours included) later.
Never neglect self-care. Exercise daily, even if only for 15 minutes in 5-minute increments. Grab the kids and get in some yoga stretches or quick calisthenics. On weekends, prepare healthy lunch items, buy nutritious convenience foods, and plan menus for the week. Have a set bedtime, and allow times for meditation, reading, journaling, sports or whatever brings you joy.
Don't let work bleed into your personal life. Don't check emails after dinnertime. Let calls go to voicemail. Once the workday is over, your mind belongs to home.
Get some fresh air and green time. Head to a park, walk down the street or get into the garden. Fresh air, a little sunshine and trees or plants are a prescription for health.
Don't neglect connections. Find ways to stay close to loved ones, even if it requires creative solutions. It's vital that you don't become isolated even if quarantining.
Know where to get help and when. If you have mental health issues, know your triggers and warning signs. Have a written plan, like a list of ways to chill out or your favorite online counselor's number. If you're overwhelmed, get a referral from your doctor.