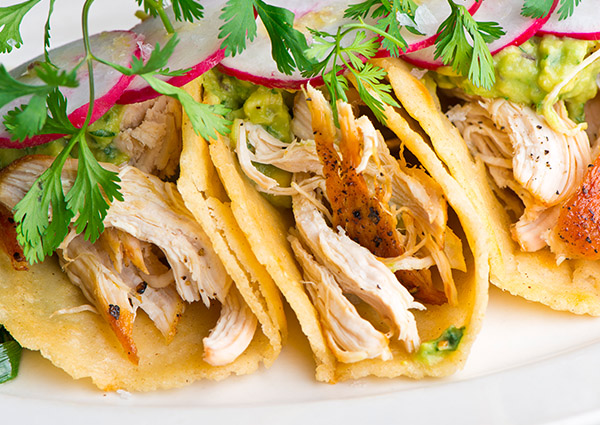 4 Diabetes-Friendly Dinners

Planning meals is rarely easy, but for those dealing with diabetes, it can be especially challenging. However, it doesn't have to be!
One of the easiest approaches to meals for those with diabetes is the Plate Method. This is a simple strategy, which makes it appealing. Start with a 9-inch plate and fill half of it with non-starchy veggies; fill a quarter of the plate with lean proteins. Finally, fill the last quarter with carbs. Don't go with just any carbs; choose nutritious varieties. Also, make sure to choose water or another unsweetened beverage to drink.
Here are some ideas to get you started. Just be sure to pay attention to portion sizes when preparing your meals.
Sheet-pan pork with potatoes and broccoli. This recipe comes together in a snap, and cleanup couldn't be much simpler. Using a bit of olive oil and your preferred seasonings, roast your boneless pork chops and vegetables to perfection. Just remember that the potatoes need the most time in the oven, followed by the pork and the broccoli will go in the oven last.
Roasted red pepper and cannellini bean pasta. This recipe sounds fancy but is incredibly easy to prepare. You'll blend a can of cannellini beans, a jar of roasted red peppers and desired fresh herbs, plus olive oil and sautéed garlic into a creamy sauce. Add pasta cooking water for the consistency you like. Optional add-ins include walnuts, hazelnuts or pine nuts. Serve over hot pasta and sprinkle with Parmesan.
Shredded chicken tacos on corn tortillas with avocado crèma. Eating healthy doesn't mean missing out on familiar favorites like tacos. Just begin with a corn tortilla, cook up some shredded chicken with taco seasoning, then add some grilled peppers. Top with crèma you blend from avocado, garlic, lemon or lime juice and cilantro, along with light sour cream or plain nonfat Greek yogurt.
Grilled or pan-seared salmon and spinach salad with lemon vinaigrette. Fish is a great option for those with type 2 diabetes who are trying to eat healthy. Grill or pan-sear salmon, then serve atop a bed of spinach leaves and other veggies such as shredded carrots, tomatoes or sliced bell peppers. Top with a light, citrusy vinaigrette made with olive oil, lemon juice, garlic, Dijon mustard, black pepper and a touch of honey.