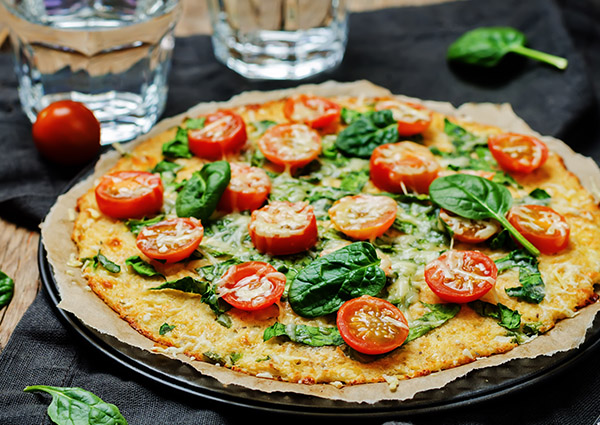 Healthy and Delicious Gluten-Free Alternatives

Whether because of celiac or due to a lifestyle choice, many people follow a gluten-free diet. Gluten is the generic name for proteins found primarily in wheat, barley and rye. Some people have a hard time digesting gluten and, instead, bake or cook with gluten alternatives. While most grocery stores have a dedicated gluten-free section, many home cooks also develop creative substitutions for products or ingredients containing gluten.
Pizza Crust
Pizza is a big no-no for those on a gluten-free diet, but an up-and-coming alternative is cauliflower pizza crust. Though it can be store-bought in the frozen section, either as a stand-alone crust or as a complete pizza, you can also make crust at home from scratch with cauliflower rice, eggs and cheese; there are many recipes online. Pizza made from cauliflower is a little floppier than traditional pizza crust, so handle it with care when baking so that it doesn't fall apart.
Breadcrumbs
Breadcrumbs provide a crunchy coating to such dishes as fried chicken or act to bind ingredients in dishes like meatloaf. While you can grind gluten-free bread into breadcrumbs or purchase gluten-free breadcrumbs, other tasty alternatives include crushed rice cereal, gluten-free whole oats, almond meal or even gluten-free pretzels.
Flour
The wheat in enriched flour is a primary source of gluten, but there are a whole host of gluten-free flours on the market. They all act a little bit differently, meaning not all gluten-free flours are going to be a 1:1 substitute for traditional flour. Some alternative flours that work well in baking and cooking include almond flour, amaranth flour, arrowroot flour, buckwheat flour (note that despite the word "wheat" in the name, buckwheat flour is gluten free), coconut flour, chickpea flour, oat flour, rice flour, tapioca flour and pea protein powder.
Pasta
Rice noodles are an excellent backup for traditional noodles, but if you want a lower-carb alternative, try spaghetti squash, which can be cooked in the oven, slow cooker or microwave. Once it's cooled, scoop out the insides, throw away the seeds, and you'll have a dish resembling spaghetti noodles. Alternatively, spiralize your zucchini and toss up a plate of "zoodles." Add your favorite toppings to the spaghetti squash or zucchini noodles, and you'll never miss the pasta.
Soy Sauce
Soy sauce is a surprising source of gluten, as it contains fermented wheat. Though soy can be bought in a gluten-free format, you can also substitute liquid aminos. Aminos are made from soybeans and water without any gluten; coconut aminos is one variety. Another soy sauce swap is tamari, a soybean-based gluten-free seasoning sauce.
Sandwiches
If you want a sandwich but can't stomach the bread, try wrapping your favorite fillings between two pieces of leafy lettuce. You'll still have the experience of eating a sandwich but with the bonus of an extra, and healthy, crunch.