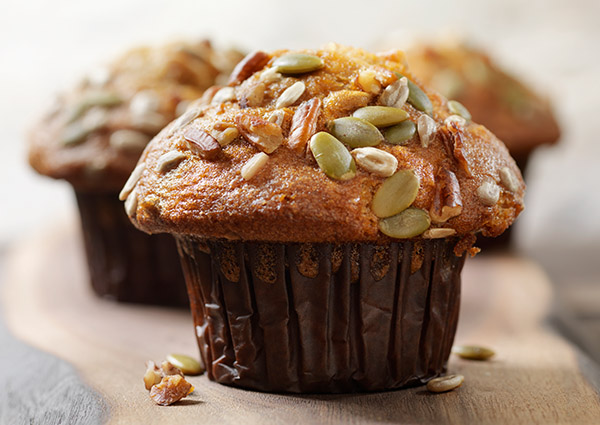 Substantial and Satisfying Plant-Based Snacks

Do you keep reaching for snacks full of unhealthy fats, sodium or sugars, plus are processed with tons of things you can't pronounce? You can fill your pantry, backpack or fridge with these easy, healthy plant-based versions that will keep you going until mealtime.
Tips to Get Started
Some of these snacks are so simple that they don't even require a recipe. Others can be prepared in advance, and then enjoyed all week long whenever you need a bite.
For a truly filling plant-based snack, nutritionists recommend choosing one containing at least 5 grams of protein and 3 grams of fiber.
1. Frozen Fruit Bites. Start simple by freezing favorite fruits like grapes, cherries, bananas and pineapples pieces.
2. Healthy Muffins. No time for breakfast? Make-ahead muffins are a perfect solution. Ingredients like nut butters, oats, nuts, fruits and natural sweeteners are excellent for making healthier versions.
3. Nutritious Wraps. Use a whole wheat tortilla, spread with hummus and add fresh veggies, black beans, salsa or avocado. You can fill them with an endless assortment of healthy foods, so you'll never get tired of them.
4. Rice Cakes + Delicious. Think rice cakes are secretly Styrofoam™? Topping them with white bean dip, hummus, vegetarian pizza toppings, or chickpea salad (a vegan type of chicken/tuna salad) will take them from dull and dry to delicious.
5. No-bake Protein Balls. Using a base of quick oats, add nut butter, coconut flakes, chopped nuts, honey or other natural sweeteners, and maybe chocolate chips or dried cherries.
6. Plant-based Jerky. Buy ready-made or create your own with mushrooms, cauliflower, tofu or carrots. Plenty of recipes are out there just waiting for you to customize.
7. Veggie Chips. Instead of grabbing a bag of potato chips when in a rush, enjoy a plant-based, healthy alternative like one made with plantains, butternut squash, and zucchini, plus so much more.
8. Chia Seed Pudding. This is an easy alternative to traditional puddings, and only requires chia seeds, plant-based milk, sweetener of your choice, and fruit or nuts.
9. Trail mix or trail mix cups. This traditional healthy grab-and-go snack can be adjusted for your preferences or even baked in a muffin tray to keep the mess manageable with kids.
10. Dips galore. You can go sweet, savory or spicy to match your mood and dippers. You can make your own hummus, including a chocolate "brownie mix" version, or maybe even a plant-based nacho cheese.