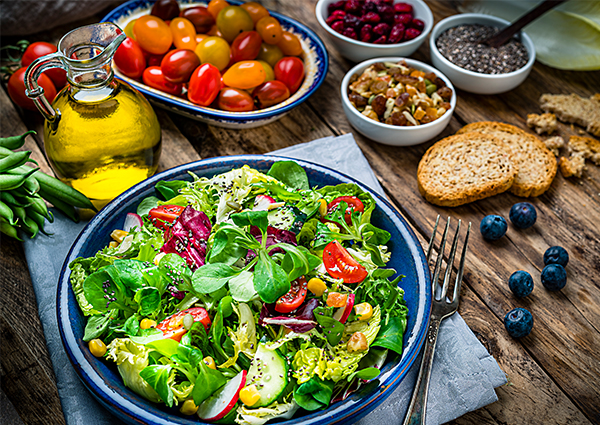 What is the MIND Diet?

A healthier brain means a better and longer life, which is something we all desire. Yet, Alzheimer's disease is the 6th leading cause of death in the US, and 7 million Americans will have Alzheimer's by 2025 . Indeed, 1 in 3 seniors die with Alzheimer's. Alongside seeking cures for age-related conditions, prevention is a vital approach.
Researchers have found that the MIND diet slows aging in your brain by 7-1/2 years and reduces your risk of Alzheimer's disease, Parkinson's disease and cognitive decline significantly.
The MIND diet is a mash-up of the Mediterranean Diet and the DASH (Dietary Approaches to Stop Hypertension) diet, and that's where the name comes from: Mediterranean-DASH intervention for Neurodegenerative Delay.
What Foods Should I Avoid or Limit on the MIND diet?
Butter or margarine. Instead, opt for olive oil.
Cheese. Ideally, only eat once a week at most.
Red meat. While it may be a toughie, limit your red meat intake to 3 times a week or less.
Fried foods. Just don't.
Pastries/sweets. Cut down to just 4 times a week, at most.
What Foods Make Up the MIND diet?
Focusing on these 10 foods goes a long way towards protecting longevity and quality of life. No counting calories here, just keep track of how often you eat servings of these foods each week.
1. Green leafy veggies (kale, spinach, collard greens and lettuces) are specifically linked to lowered dementia and cognitive decline risks. Recommended servings: 6 weekly. Serving size: 2 cups raw/1 cup cooked.
2. Berries, particularly strawberries and blueberries have been studied, but all berries are good choices. Recommended servings: 5 plus servings weekly. Serving size: 1/2 to 1 cup.
3. Olive oil replaces all other oils. Recommended servings: daily. Serving size: 2 tablespoons.
4. Whole grains like whole-grain bread, oats, faro, quinoa, wild rice, whole-grain pasta, brown rice and the like are key MIND diet components. Recommended servings: 3 daily servings. Serving size: 1/2 cup cooked or 1 slice.
5. Nuts such as almonds, walnuts and other types are great options in this eating style.
Recommended servings: 5 ounces weekly. Serving size: 1 ounce or a handful.
6. Vegetables besides green, leafy ones should encompass a rainbow of variety. Recommended servings: 1 serving daily. Serving size: 1/2 cup.
7. Beans and legumes from black, kidney, cannellini to lentils, edamame and tofu are terrific to include. Recommended servings: 3-4 times weekly. Serving size: 1/2 cup.
8. Fish like salmon, tuna, cod, tilapia, halibut or mahi-mahi, are elements of the MIND diet. Just make sure they aren't fried. Recommended servings: 1 time weekly. Serving size: 1/2 cup.
9. Poultry like chicken or turkey; skinless and not fried are best. Recommended servings: at least twice weekly. Serving size: 3-5 ounces, cooked.
10. Wine is considered a healthy option, according to some studies. However, if you don't already drink, keep abstaining. Recommended servings: Once daily. Serving size: 1 glass.