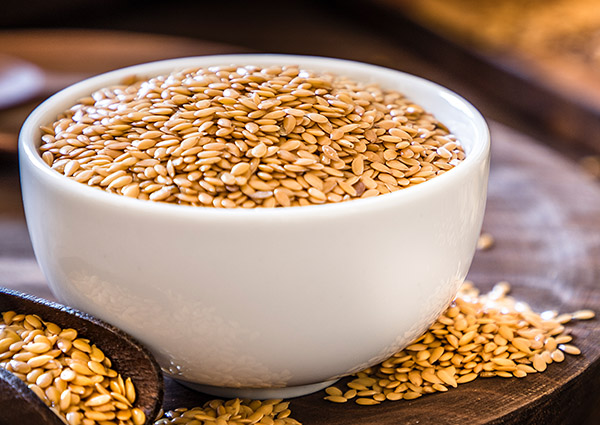 4 Healthy Baking Substitutions

It's possible to enjoy your favorite baked goods with a healthy twist; however, it can be challenging to know what substitutes and ratios produce the exceptional baked goods we know and love. Use the following ingredient swaps to bring nutrients, flavor and fun to your seasonal favorites.
1. Flaxseed for Eggs
Eggs are not inherently unhealthy, but some people prefer to avoid eggs or reduce their egg intake because of the cholesterol content. Eggs function to bind baking ingredients together, thicken the batter, and provide texture to the final product, so it's hard to imagine baking a cake or cookies without an egg or two.
Enter flaxseed, a nutty, flavorful, nutrient-loaded wonder food containing many good things —from fiber to omega-3s to lignans (plant compounds that contain antioxidants). To use flaxseed in place of an egg, mix one tablespoon of ground flaxseed with three tablespoons of water and whisk together until it resembles an egg texture; let it rest for a few minutes before using.
2. Dates for Sugar
No baked goods would be complete without sweetness. Rather than rely on artificial sugar substitutes, add natural sweeteners to your baked goods by incorporating dates instead of white sugar. Unlike sugar, dates have a low glycemic index and are less likely to raise blood sugar levels.
You can either buy date sugar, made from dehydrated dates, or chop up a pound of fresh, pitted dates and blend in a food processor with 1/2 cup of water until the mixture becomes smooth like a paste. Then swap out the sugar in a 1:1 ratio. Your baked goods will end up a bit more cake-like than chewy when you use date paste.
3. Avocado for Butter
Butter is the traditional fat most bakers use to make cookies, cakes and almost all other baked goods. Butter acts as a leavening agent, and the fat from butter provides moisture and richness. Reducing the amount of butter in recipes and substituting with alternatives takes trial and error.
Although most people associate it with guacamole, avocado is a healthy fat that's surprisingly versatile in baking; it will add fiber and reduce calories and saturated fat content. Make sure to use a ripe avocado before mashing it. A 1:1 butter to avocado ratio will generally work for most baking recipes.
4. Coconut Flour for White Flour
Flour provides structure to baked goods, and it seems as if anything these days can be ground into a powdery flour. White flour deservedly has a bad rap, as it has zero nutritional value and can elevate blood sugar levels.
While there are several flour alternatives on the supermarket shelves, one that has been gaining traction is coconut flour. Coconut flour is both low carb and gluten-free, a winning combination for many consumers. Use between 1/4 and 1/3 cup flour for every cup of white flour, though the original recipe may need to be adjusted for additional moisture, as coconut flour is dense and absorbs liquids quickly.