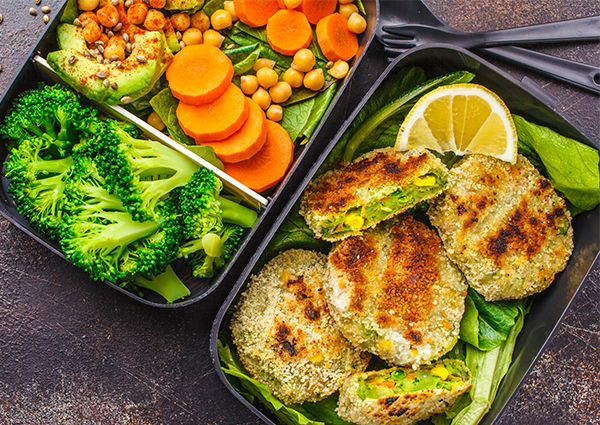 Meal Prepping on a Plant-Based Diet

Meal prepping is a smart way to plan healthy meals and save time as well as money. By preparing meals ahead of a busy week, you can be sure you will eat balanced meals with minimal fuss. If you've started eating a plant-based diet, you'll have a slightly different approach than with a meat-centered menu.
Storage. Plastic or glass containers with tightly fitting lids are essential. Pyrex®, Mason jars and plastic bags are all useful items.
Recipes. Search the internet to find plenty of plant-based meal ideas. Start with recipes on eatrightforlifeonline.com or Inseasonezine.com. Then, inventory your kitchen. What items will you need for your week's menu? Make a list of meals and check off ingredients you already have on hand.
Have a game plan. Remember that most prepared foods last three to four days in the refrigerator. You'll likely want to freeze anything you plan to eat later in the week .
Don't get overwhelmed! Trying to cram planning menus, shopping and prepping/cooking all in one day is just too much for anyone. Instead, plan one day, shop another, and prep on the last day.
Meal prep vs. ingredient prep. For ingredient prepping, you simply chop veggies, cut up fruit, precook grains and so on, to grab as needed throughout the week. Or you can completely prepare a meal that you only need to heat and eat. Also, prepare double-batches of soups or casseroles and freeze the surplus.
Enlist help and have fun! Have the family help you with the meal prepping, and try to keep it fun. Play some tunes and maybe prep a special treat to enjoy afterward.
Label containers. Label what the food is, what dish it goes with and when it was prepped. Freeze any food that is approaching its three or four-day limit in the fridge.
Here are some ideas for plant-based food prepping!
Prepare overnight breakfast oats
Assemble Mason jar salads
Chop veggies (perfect for stir-fries)
Prep grains and rice for sides or bowls
Prepare an extra big batch of veggie burgers and freeze extras
Cut up and bag fruit
Mix up some salsas, sauces, dips and dressings to add to dishes
Prep soups and stews in the slow cooker while you do other preparation
Hard-cook eggs for snacks or as a great addition to bowls
Make a big batch of energy bites and freeze a portion
Toss cooked pasta with olive oil and store in a plastic bag in the fridge
Separate nuts, seeds and herbs in storage bags or containers