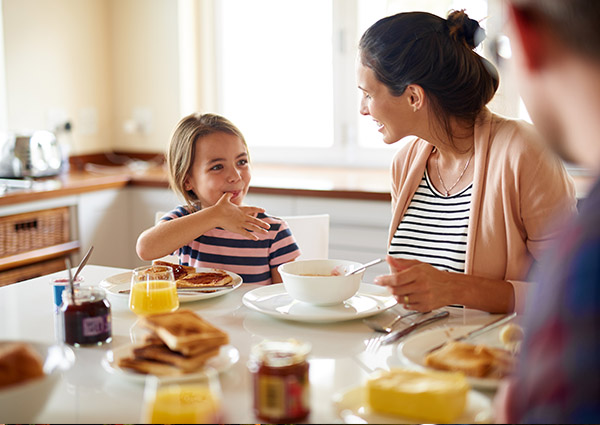 The Science Behind Breakfast

Some people never eat breakfast, and some people who swear by it. For those who do not eat breakfast, the problem may be that there is not enough time in the morning. Breakfast often takes a back seat between getting ready for work and getting the kids out the door for school. But breakfast has long been viewed as the most important meal of the day, as it provides a dose of morning fuel.
Last February, the Endocrine Society published the results of a study conducted about the importance of breakfast. It concluded that people who eat a big breakfast in lieu of a large dinner might burn twice as many calories, thereby preventing obesity and high blood sugar.
Other studies have shown that eating breakfast is linked to other health aspects, such as reducing bad cholesterol and reducing risk for heart disease and diabetes.
Also, if you skip breakfast, you're more likely to make it up by snacking throughout the day; eating a high protein breakfast likely will reduce those pesky carb and sugar cravings.
Healthy Breakfast Options
Eating a high protein and low carb breakfast will keep you full until lunch and prevent you from experiencing a sugar crash. Ditching empty carbs like waffles, bagels and high sugar cereals or pastries and substituting them for whole grains and other complex carbohydrates is likely to benefit your metabolism, enabling your body to increase the number of calories it can burn.
Aim for 20-30 grams of protein at breakfast. Eggs, Greek yogurt, cottage cheese, nut butters, steel-cut oatmeal, turkey sausage, smoked salmon and milk are excellent morning protein sources. You can even get creative with grains such as quinoa, millet or buckwheat and create a delicious and nutritious breakfast bowl. The combinations are endless!
If you have time for a sit-down breakfast, go for it. A spinach omelet with sprouted grain toast and an orange or banana is a nutrient-rich combination that will surely fuel you properly. Try some salmon and avocado on whole grain bread. A breakfast burrito with eggs, vegetables and beans is easy to whip up. Or how about an overnight chia seed pudding — add a little cocoa powder and maple syrup, and you'll swear you're eating dessert for breakfast.
But if you're in a rush, a grab and go breakfast will work. A fruit smoothie mixed with yogurt is a perfect take-along meal. For an extra energy boost, pack a few protein bites: mix any nut butter with dry oats, honey, flaxseed, vanilla, cinnamon and yes, even a few chocolate chips. Form into balls and refrigerate the night before, and you will be rewarded the next morning with a healthy and delicious grab-and-go breakfast goodie.