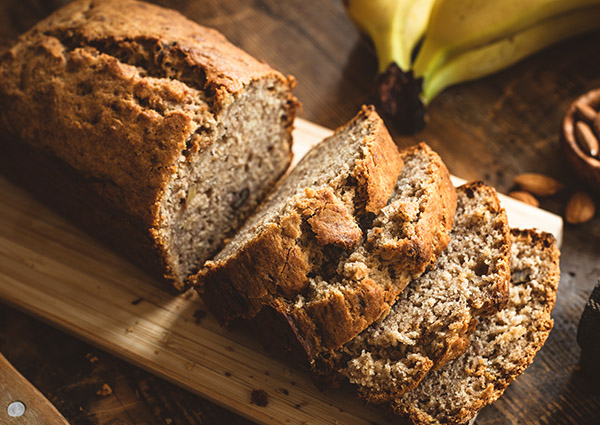 5 Different Delicious Ways to Enjoy Bananas

Rich in potassium, fiber and vitamin C, versatile bananas are healthful additions to your kitchen repertoire. Some of their many benefits include promoting a healthy heart, regulating blood pressure and boosting energy. For these health benefits and to elevate everyday meals, go bananas with these easy, delicious recipe ideas using this tropical fruit!
1. Banana Bread: One of the most popular banana recipes, banana bread is such a classic that you likely already have a go-to recipe! It's simple to make, but a few tricks help make it spectacular. Ripe bananas make the best banana bread; the riper the bananas, the more flavorful. For a super-moist bread, add sour cream or applesauce to the mixture and avoid overmixing and over baking. Mix-ins such as chocolate chips, nuts, citrus zest, raisins, coconut or an array of warm spices will make it your own.
2. Smoothies: All smoothies benefit from bananas. If you have ripe bananas ready for recipes, toss them into your next smoothie! Bananas, peanut butter and cacao powder are a classic combination that offers sweetness and a punch of protein. You also can't go wrong with bananas, strawberries and Greek yogurt or bananas, avocado and orange juice.
3. Peanut Butter-Banana Tortillas: The quickest and tastiest sandwich you'll ever make! Spread whole wheat tortillas with peanut butter or your preferred nut butter, then top with thinly sliced bananas. Add honey or granola for added sweetness and crunch, then roll up. Enjoy as a roll-up or cut into pieces for quick, easy and healthful banana bites.
4. Banana Cream: Craving ice cream? Bananas can help! Transform bananas into magically smooth and delicious soft serve cream. Peel bananas and cut them into chunks before freezing. Then add the frozen pieces to a blender and blend until the mixture becomes a smooth purée. If you want to amp it up, add peanut butter or chocolate sauce while mixing, then top this guilt-free cream with your favorite toppings like nuts, chocolate chips, fruits or sprinkles.
5. Frozen Chocolate Bananas: What's easier than bananas on a stick? Enjoy a refreshingly delicious, handheld frozen treat on a hot day – or any day you're craving something sweet – with frozen chocolate banana skewers. Cut bananas in half, insert a skewer into the halves, then place them on a baking sheet and freeze for at least 20 minutes. Meanwhile, melt chocolate, then dip the bananas in the chocolate mixture. Yogurt and caramel also make delicious coatings. Roll the chocolate-covered bananas in toppings such as sprinkles, nuts or crushed pretzels, then freeze for an additional 15 minutes.